Virginia
Stobart

(AU)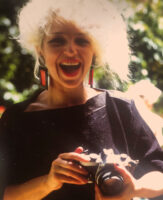 Born 1954, Melbourne, Australia
Lives and works Melbourne, Australia
Virginia Stobart, born in Australia from Greek and Cypriot heritage, studied and worked at Photographic Imaging College from 1999 until 2013. Stobart curated and collaborated while producing personal exhibitions. Stobart graduated in 2016 RMIT (Fine Arts) BA.
Her work is an investigation into identity and how it shifts and expands through migration. Greek myths, familial histories and symbolism are embedded in the work, incorporating video, photography, printmaking, painting and natural environments. The images are layered, abstracted, diffused, obfuscated, fragmented, projected and refilmed. Saturated colours, movement slowed and sounds composed to underscore the psychological space within the inner world.