Warsan
Mohammed

(SO/AU)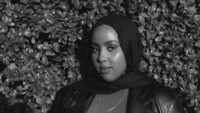 Born 1996, Melbourne, Australia
Lives and works Melbourne, Australia
Warsan Mohammed is a Somali/Australian photographer and cinematographer. After completing her Bachelor of International Relations, she drew inspiration from Black critical theory writers, which led her to recognise the profound importance of controlling one's own narrative and not allowing others to define it.
Warsan's artistic journey is driven by profound themes of self-confidence and a sense of belonging. In her work, she prioritises marginalised voices at the forefront of her visual narratives, showcasing the beauty within her communities.
Her art captures authentic representations of the Black and Muslim experience, serving as an inspiration for younger generations to embrace their identities with confidence. Warsan's dedication to amplifying underrepresented voices remains a cornerstone of her art practice.