Xiao Hui
Wang

(CN)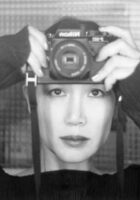 Born 1957, Melbourne, Australia
Lives and works Shanghai, China and Munich, Germany
Prof. Xiao Hui Wang (WANG Xiaohui) is an internationally renowned artist who lives and works in Shanghai, China and Munich, Germany. She is a multidisciplinary artist whose work incorporates diverse medias including photography, film, video, sculpture, installation, design, light and media art. She is also a celebrated author, which includes her bestselling autobiography, My Visual Diary, which has been republished more than 40 times and has received numerous awards including the Shanghai Excellent Book Award. She is a professor at Tongji University in Shanghai and institutions including Xiao Hui Wang Art Center, Xiao Hui Wang Art Museum, Xiao Hui Wang Art Academy, Xiao Hui Wang Art Space were founded in her honour. Prof. Xiao Hui Wang is also a recipient of the Germany-China Friendship Award and as a Cultural Ambassador, she plays an active role in cultural exchanges. She has exhibited widely, within China and internationally, in group and solo exhibitions and has collaborated with major brands and is the recipient of numerous awards.