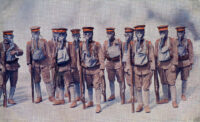 Yoshikatsu Fujii graduated from Tokyo Zokei University of Arts with BA in Art Film. He began photography work in Tokyo in 2006. His photographic works often deal with historical themes and memory lingering on in contemporary events. His works have been broadly exhibited, including at the New York Photo Festival (USA), PHotoEspaná (Madrid, Spain), Phoenix Art Museum (USA), Delhi Photo Festival (India), Getty Images Gallery (London, UK), Chobi Mela International Festival of Photography (Dhaka, Bangladesh), Jimei × Arles International Photo Festival (Xiamen, China).
Fujii's project Red String was inspired by his parents' divorce, produced a hand-made limited edition photobook. The book has been nominated for several awards, including the Paris Photo-Aperture Foundation Photobook Awards.
His photobooks both Red String and Hiroshima Graph—Rabbits abandon their children are owned by The Museum of Modern Art Library, New York.