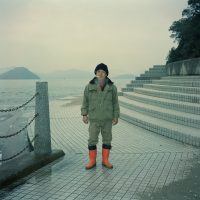 Behind the Photo—Iio Ryoyi, Gardener, Hiroshima, Japan by Ingvar Kenne
18.10.21
For the first edition of Behind the Photo we speak with Swedish-born Australian photographer Ingvar Kenne about the story behind his image Iio Ryoyi, Gardener, Hiroshima, Japan. This image was a winner of the 2021 Portrait of Humanity award—which was exhibited at PHOTO 2021—and was selected for the Taylor Wessing Photographic Portrait Prize 2020 at the National Portrait Gallery, London.
I met Iio in Hiroshima while travelling. He was in a team of gardeners working for the hotel I was staying at. I asked for his portrait and we "chatted" for a bit, though we had no shared language.
The portrait of Iio is yet another small fragment of an ongoing project without end – CITIZEN: Portraits since 1994.
Little did I know when I set out on an oil tanker from Norway to Canada on a global motorcycle journey, one spring day in 1994, that it would be the start of CITIZEN- now stretching 27 years and 60 odd countries.
I have used the same strict parameters; camera, lens, film and inviting chance to be part of these random encounters.
I have no intention to stop or veer off course. I am only obeying my own precept.
It is like a manual in my head that is impossible to ignore. The purpose is in the obsessive doing, in the making of a photograph in that incidental moment and space we happen to converge at. And in the subsequent elevated human connection we are both left with. Turning the camera to this particular driver, diver, actor, reverend, homeless, cleaner, politician, musician, tribal dancer, artist or indeed my own family.
A taxonomy of this accidental population was never the purpose, yet its inevitable
outcome. Hooking each person to the next one I photograph, allowing an examination of an unforeseen citizenry.
No borders, no sides, no issue.
So… it could be this.
Of seeing eye to eye.
Of being a citizen in the world, awake and curious about the other, the stranger. A diary of a photographers life in progress.
The sum now, perhaps, a democratic equaliser.
---
Iio Ryoyi, Gardener, Hiroshima, Japan was one of 30 winning entries of the 2021 Portrait of Humanity™ and was exhibited at PHOTO 2021.
Portrait of Humanity™ is an international portraiture award conceived to show there is more that unites us than sets us apart. Run by 1854 Media (the publishers of British Journal of Photography) the award is back for its fourth edition to celebrate the moments that make us what we are. Judged by a jury of international industry leaders, it offers the chance to have work toured around the world, published in the prestigious Portrait of Humanity photobook, and featured in international press.
The call for entries for the 2022 Portrait of Humanity are open until 7 December 2021 with winners announced in 2022 ahead of the exhibition at PHOTO 2022.
For more information or to enter CLICK HERE
To find out more about Ingvar Kenne head to ingvarkenne.com