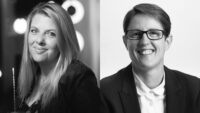 PHOTO Australia announces two new Board appointments
14.9.23
We're pleased to announce the appointment of Penny Miles and Melinda Rich to the PHOTO Australia Board.
We're bolstering our board's arts and governance expertise with the appointment of Penny Miles and Melinda Rich in September 2023.
Penny (pictured left) is an arts professional specialising in executive leadership, strategic planning, government investment, audience engagement and market development. Her career spans industry roles and working for all tiers of government including the Australia Council for the Arts, NSW State departments, and recent Chair of the Night-time Economic recovery for the City of Melbourne. Penny's previously headed-up the Federal Government's Visions Australia and Festivals Australia funds, developed touring strategies for some of Australia leading arts companies, and worked on major cultural policy including the inaugural Arts and Cultural Plan for the City of Parramatta, the first precinct framework for the City of Gold Coast, and the national Audience Experience Program for regional galleries, theatres, and arts centres.
Melinda (pictured right) is an experienced senior executive with strong skills in people and culture, risk, safety, capital works, facilities management, procurement, technology, communications, and social impact. Her corporate experience spans leadership positions in the financial services, transport, agribusiness, mining, and manufacturing sectors. She holds degrees in Engineering (Mechanical) and Arts (Politics/Philosophy), and a Master of Business Administration. Melinda has extensive experience at board level in the not-for-profit space, with previous roles as director and chair of JOY Media, and as chair of the RACV Community Foundation. She currently sits on the board of the Victoria Pride Centre and is a member of the Audit, Finance and Risk Committee.
We welcome Penny and Melinda as two influential leaders steering our organisation's short and long term activities in the lead up to PHOTO 2024 in March next year.