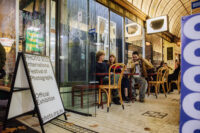 Food & Drink Guide
29.4.22
It's not hard to find an excellent spot to eat, drink and or grab a coffee in Melbourne so to help you plan your exploration of PHOTO 2022 and navigate the culinary delights located near our outdoor installations and gallery exhibitions, we have pulled together a list of some of our favourite culinary destinations in our Festival precincts to keep you well fed and caffeinated!
Town Hall Precinct
In the backstreets around the Town Hall, you'll find many of the city's best food and drink.
Grab a takeaway coffee at Duke's Coffee Roasters or Cathedral Coffee and check out Thandiwe Muriu's vibrant work in Scott Alley. Or, up the road, sample the city's best croissants at Lune. From there, it's a short hop to see Benjamin Prabowo Sexton and The Portrait at Blindside in the Nicholas Building, or Hannah Brontë at the Town Hall.
For lunch, Maccaroni Trattoria Italinana on Hardware Lane serves some of finest rustic Italian food in a city renowned for it. And later in the evening, take a cocktail at Gimlet (treat yourself!) and dinner at Chin Chin or Supernormal—check out Ying Ang & Ling Ang's outdoor work while you're at Supernormal, and wander down Hosier Lane to see Cindy Sherman's piece hanging over Fed Square.
Parliament Precinct

In the top end of town, you'll find great coffee at Spring St Grocer, around the corner from work by Scotty So at Tianjin Gardens, and Alexandra Lethbridge, Henry Wolff and others in Treasury Gardens.
For lunch, try some American diner food at Butchers—if you're there later in the evening, pop into Angel Music Bar to see some Florian Hetz.
Have a drink upstairs at Siglo for an aerial view of the raft of outdoor works around Parliament and the Old Treasury Building, including Atong Atem, James Henry, Ioanna Sakellaraki and many more—then head back to street level to explore the work properly.
For dinner, we recommend the City Wine Shop—a favourite among Photo Australia staff during the festival (or any other time).
State Library Precinct
Mr Tulk, on the side of the State Library, is the perfect place to get a coffee and start exploring. Around the corner you'll find work from Anu Kumar, and across the street at RMIT you'll find Paulomi Basu, Christian Thompson, and several artists at the university's First Site Gallery. Further up the road towards Carlton, look out for outdoor exhibitions from Eammon Doyle, Denisse Ariana Perez and Sarah Pannell.
For lunch, you're a stone's throw from authentic Korean at Dooboo, or Ramen at IPPUDO. And for dinner, head down Swanston Street to Cookie, and then upstairs for a drink at the Rooftop Bar at Curtain House.
River Precinct
Pick up a coffee from Code Black's pop-up at Queensbridge and wander up the Birrarung/Yarra to see Massimo Vitali at Southgate. After lunch at Arbory, head to Buxton Contemporary to see Angela Tiatia, and the VCA's Fiona and Sidney Myer Gallery for Aziz Hazara. Then, after the sun goes down, get a table at Leftbank for dinner, hit Ponyfish Island for a drink, and explore the lightbox works on Southbank Promenade, including Naomi Hobson, Patrick Pound, and the Huxleys.
Fitzroy/Collingwood Precinct
Start your wander around the inner north streets of Fitzroy and Collingwood with a coffee and breakfast at Terror Twilight, and head to the Collingwood Yards to see works by Jemima Wyman (at Agency Projects) and Dana Claxton (in the courtyard). A few blocks north, CCP, Futures Gallery and Le Space host a variety of works, and laid-back Japanese restaurant Cibi hosts you for lunch.
Walk to Daine Singer to see Lane Cormick and Zoe Croggon, James Makin Gallery to see the New Photographers show, via Peel Street Park to see Honey Long, Prue Stent & Amrita Hepi's Omphalus, and then hit Marquis of Lorne or Napier Quarter for a drink before some dinner on Smith Street—we recommend ramen at either Shop Ramen or Tonkin.
Prahran Market
After a coffee at Market Lane, search out Misha Vallejo Prut's work at Prahran Market and Jess T. Dugan at Prahran Square. The market is also where you want to be for lunch, with countless stalls including Wasshoi Bar & Grill, Falafel Man and Atiyah.
Nearby, check out the Helmut Newton show at the Jewish Museum and the group show Be Here Now at MARS Gallery before dinner at Entrecôte and drinks at Babble.
Find out more about PHOTO 2022 International Festival of Photography by visiting our socials or read more Channel articles here.