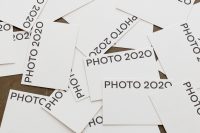 Designing an identity for PHOTO 2020
25.2.19
PHOTO 2020's branding, identity and website were designed by Melbourne-based creative agency U-P. We spoke with U-P's directors Paul Fuog and Uriah Gray about their design process, how they are incorporating photography into the festival's branding, and commissioning a font exclusively for PHOTO 2020.
How did the collaboration with PHOTO 2020 emerge?

PHOTO 2020 Artistic Director Elias Redstone got in touch to learn more about U-P and explore the opportunity of us working together. We were very familiar with his previous projects so we were excited to meet and talk about PHOTO 2020. We recognised that there were synergies in the way we think about design as a collaborative process and the importance of developing a truly collaborative working relationship.
What was the initial brief and how has the design evolved?

Elias came to us with a deeply researched idea and an evolved proposal. The brief was to develop a full identity for a new photographic festival that would take place across different sites in and around Melbourne, including the marketing, signage, website and publication. Together, we spent a lot of time discussing the festival and a number of important themes emerged from these conversations which helped us to establish the design direction.
These themes included singularity and focus (a single medium and a single theme for each biennial), connectivity and relatedness (multiple galleries and public spaces, dispersed physically but connected curatorially), multiplicity and diversity (many artists involved with divergent interpretations of the festival theme) and accessibility and inclusivity (photography as a widely accessible creative practice and a truly accessible festival with free exhibitions and outdoor displays). We then explored how each of these themes could co-exist in the one identity.
How does your approach incorporate photography into the design?

It was imperative that the identity spoke of diversity and multiplicity so we avoided the use of a hero image, using instead a vast collection of images from multiple artists that encapsulate the festival theme. Almost every time someone comes in contact with the PHOTO 2020 identity across all the different formats and mediums, we hope they will see a different photographer's work. In this way, the identity is almost like another exhibition space.
You worked closely with Swiss type design agency Dinamo on the typeface, how did this collaboration come about?

We have been wanting to work with Dinamo for quite some time; they are very researched based and have a unique perspective on how fonts can be created and deployed in the digital age.
We decided quite early on that the identity for PHOTO 2020 would be heavily typographical, so it presented a great opportunity to collaborate with Dinamo to customise a typeface exclusively for the festival: Whyte Photo. Where the image treatment allows us to explore multiplicity and diversity, the singular typeface throughout holds everything together bringing uniformity, clarity and consistency.
What was it about working on the PHOTO 2020 identity that excited you?

We are proud to be part of a photography festival of this scale taking place in our home city. PHOTO 2020 will be presenting the work of international and local artists who we greatly admire, so to be involved in building a platform to support and present their work is thrilling.