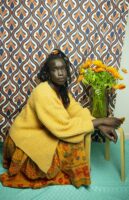 Limited Edition Prints Announced
18.1.23
Photo Australia is releasing a limited edition print by Atong Atem as the first in a series to raise funds to support artist commissions and presentations for PHOTO 2024.


Sales of a new series of limited edition prints by Australia's most celebrated photographic artists will support the commissioning and presentation of artists for PHOTO 2024 International Festival of Photography, Melbourne, Victoria (1-24 March 2024). Each editioned print is drawn from work commissioned by Photo Australia. This circular economic model has been developed to support artists and collectors.
The first limited edition print is 'Studio '85' from Atong Atem's celebrated series, Surat, that was exhibited as a major outdoor installation next to the Old Treasury Building at PHOTO 2022. "Participating in PHOTO 2022 has catapulted my work into the international sphere and led to so many major opportunities," says Atem. "I am delighted that sales of my print will now support more artists to be commissioned by Photo Australia to create ambitious new work for PHOTO 2024."
Surat (which translates from Sudanese Arabic as 'snapshots') references the family photo albums Atem's family brought with them when they arrived in Australia as refugees from South Sudan, and the characters within them. Atem's restaged and reimagined scenes and characters explore self-portraiture as performance through the act of photographing and being photographed, framing and being framed.
"I was drawn to making Surat from my interest in the history of photography in Africa, and studio photography specifically," says Atem. "I was interested in not quite re-creating but paying homage to family photos as objects, documents of history and a way to preserve tradition and mythology."
The work honours the Dinka tradition of record-keeping and archiving as an intimate cultural practice. "Surat is a celebration of the visual language of family photographs and photography as an extension of our oral traditions," says Atem. "We sing songs to tell history and we dress up and sit for photographs to mythologise our histories."
For Atem, Surat is also about movement, both geographic and historic. As she explains, "It's about South Sudan, so-called Australia, and everywhere else in between that I've rested my head to dream about my people – or rather the depictions of people I don't know but am connected to through photographs."
Sales of Atong Atem's print is available in an edition of 150 until 27 March 2023, or until it sells out, for $350 unframed on Ilford Gold Fiber Gloss 310gsm. Printed by Colour Factory.
The print is also available in a custom navy blue Victorian ash frame designed by the artist and fabricated by Fini Frames for $650.
Atong Atem is an Ethiopian-born, South Sudanese artist and writer living in Narrm / Melbourne. Atem's photographic practice explores migrant narratives, postcolonial practices in the African diaspora, and concepts of identity, home, and liminal space. Her dynamic portraiture references widely, from Malick Sidibe and Seydou Keita to science fiction writer Octavia Butler. She was awarded the inaugural La Prairie Art Award in 2022, presented by the Art Gallery of New South Wales; the National Gallery of Victoria and MECCA M-Power scholarship in 2018; and the Brisbane Powerhouse Melt Portrait Prize in 2017. Her first book Surat is published by PHOTO Editions (Photo Australia and Perimeter Editions). Atem is represented by MARS Gallery, Melbourne.