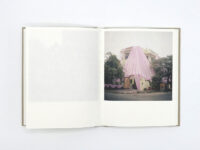 PHOTO Book Club – Brendan McCleary on Anu Kumar's Ghar
20.7.23
In our July edition of PHOTO Book Club, PHOTO 2024 Curator Brendan McCleary reflects on Anu Kumar's observant hometown chronicle 'Ghar'.
Released late last year, Ghar by Melbourne/Narrm based artist Anu Kumar is a beautiful window into Anu's world – a return to her birthplace of Kavi Nagar, India.
Everything about it comes together masterfully and with fragility, from the paper choice and the way it absorbs the ink so softly, to the pocket size square format, and pacing of images.
It's a book that uses photography to go on a journey of discovery, of learning a place, a family, their everyday rituals, little moments of softness and connection. Archival images layered throughout give that further connection across time and generations, truly such a lovely little book that I absolutely recommend.
If I had to pick two images to speak on, I'd say the person dyeing their hair, sitting on the couch at home – a practice I can relate to as a home hair dye aficionado.
Second would be the closing image, feet resting on the bed. It's honestly a perfect image to finish the sequencing and highlight the closeness and intimacy the book unveils.