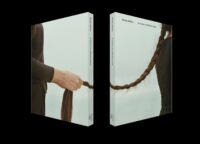 PHOTO Book Club – Brendan McCleary on Hoda Afshar's A Curve is a Broken Line
6.9.23
To celebrate Hoda Afshar's first survey exhibition at the Art Gallery of New South Wales, in this special edition of PHOTO Book Club curator Brendan McCleary reflects on his favourite images in Afshar's new book A Curve is a Broken Line.
Published to coincide with the first major mid-career survey of Hoda's practice at a public museum in Australia, A Curve is a Broken Line, is an incredible in-depth exploration into one of Australia's most important artistic voices. The accompanying publication, featuring responding essays and poetry unveils a creative practice that is not only beautiful in its form, but also unflinching in its political resolve. From the outset cover, a curve of hair, held delicately, a simple gesture that speaks volumes.
The publication shows us how Hoda's practice directs attention to some of the most important ethical arenas of our contemporary society. From Remain, her collaboration with Behrouz Boochani and fellow men at the time detained on Manus Island, through to Agnonistes, a an incredibly layered series unpacking whistleblowers from across Australian industries and government agencies (a work commissioned by Photo Australia for PHOTO 2021), each series within the book shows the depth of Hoda's work. I still remember first seeing the works in Agonistes, how much they look like death masks, how harrowing they appear.
Another spread I want to draw attention to is from Speak the wind. The images within this series are truly transporting, a poetic portrait of the Strait of Hormuz, its people, culture and traditions. These two images capture that so nicely, the billowing cloth of the woman's clothing, alongside a dry red landscape shaped by centuries of winds and water movement.
There's magic in Hoda's images, revealed through her lens, a portal that takes you on a journey. These images for me are an offering, an invitation to dream.
In all, this publication is one to spend time with, highlighting some of the most critical and urgent work within the current landscape of contemporary photography.
To find out more about A Curve is a Broken Line, visit Art Gallery of New South Wales to see the exhibition and purchase a copy.