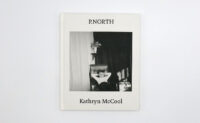 PHOTO Book Club – Pippa Milne on Kathryn McCool's P. North
23.6.23
In our first edition of PHOTO Book Club, PHOTO 2024 Curator Pippa Milne shares her musings on Kathryn McCool's brooding photobook P.North.
A recent publication by Perimeter Books has caught and held my attention.
Kathryn McCool's images in P.North come from a series of photographs made in rural New Zealand and Australia during the 1980s and 1990s. These photographs have sat for many decades, moving between Australia and New Zealand before graduating from negatives to prints and finally being sequenced into this book. When things have this much time to sit, they seem to settle into their skins, and the sequencing in this book has drawn out a thread of images that quietly demand sustained looking
McCool's images are uncoupled from timelines or maps and imbued with quotidian mystery. They hold very few clues about where and when they were made, but also, a spirit seems to thread its way through each photograph – and perhaps I do mean something religious, I'm not quite sure.
There are multiple cues that point towards the church: a baptismal pool; a classroom with Sunday school posters on the wall, but more than this, small details often waft, or soar through these frames. A balloon obscures a face, a tiny bird soars above a small town circus yard with an elephant, resolutely earthbound. It is as though there are uncertainties in the air, and this photographer has managed to catch a glimpse of them.
This is chiefly a book of wonder, curiosity and questions that, in a very endearing way, are of course unanswered.
◉
Many photographs featured in P.North were commissioned by PHOTO Australia as part of the PHOTO 2021 International Festival of Photography, Melbourne. See McCool's outdoor work Jubilee Years (1986-2020) at PHOTO 2021.
To purchase a copy of P.North, head over to Perimeter Books.