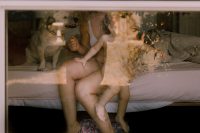 PHOTO Essay—Lisa Sorgini
18.10.21
Artist Lisa Sorgini shares a PHOTO Essay of works from her series Behind Glass (2020), The Bushfire, the flood and the virus (2020), Mother (ongoing) and In Passing (ongoing).
Lisa Sorgini is an Australian artist currently residing in northern New South Wales (Bundjalung Country). Her practice engages with the relationship between mother and child, family and community and investigates the societal constructs and expectations that are often vastly at odds with the lived experience.
She is deeply interested in the way our familial relationships, particularly the mother role looks and changes over time.
Preferring to work with natural light she creates intimate portraits and landscapes that are unguarded and sensitive, tense and tender, with rich textures and a painterly aesthetic.
Her work has been exhibited within Australia and internationally as well as being published extensively worldwide, with recent interviews and features in The New Yorker, TIME Magazine, Creative Review and National Geographic.