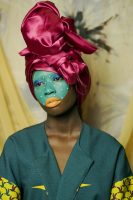 PHOTO LIVE: Atong Atem
20.10.21
Artist Atong Atem (AU) in conversation with Dr Zoé Whitley, Chisenhale Gallery (UK).

Photo Australia, Melbourne and Autograph, London are collaborating to present an international season of PHOTO LIVE talks. The ten free online conversations between artists, photographers and curators from Australia and the UK will explore ideas of identity and belonging in the context of human rights, representation, and social justice. This program highlights the importance of centring black, Indigenous, feminist, queer and other marginalised voices and storytelling in photography.
Artist Atong Atem (AU) was in conversation about their practice with Dr Zoé Whitley, Chisenhale Gallery (UK) on Wednesday 20 October, 2021. Watch the recording below.
ABOUT ATONG ATEM
Atong Atem is an Ethiopian born, South Sudanese artist and writer living in Narrm/ Melbourne. Atem's photographic practice explores migrant narratives, postcolonial practices in the African diaspora, and concepts of identity, home, and liminal space. Her dynamic portraiture references widely, from Malick Sidibe and Seydou Keita to science fiction writer Octavia Butler. She was awarded the inaugural National Gallery of Victoria and MECCA M-Power scholarship in 2018 and the Brisbane Powerhouse Melt Portrait Prize in 2017.
ABOUT ZOE WHITLEY
Zoé Whitley is an American art historian and curator who has been director of Chisenhale Gallery, in London, UK, since 2020. She has held curatorial positions at the Victoria and Albert Museum, the Tate galleries, and the Hayward Gallery.
This program is part of the UK/Australia Season 2021-22—a collaboration between the British Council and the Australian Government's Department of Foreign Affairs and Trade, under the patronage of Her Majesty the Queen. The theme of the Season is 'Who Are We Now?' and will reflect on the shared history, current relationship and imagine the future of the two nations.