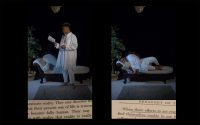 PHOTO LIVE: Ope Lori
22.9.21
Ope Lori (UK) in conversation with Shaune Lakin, Head Curator of International Art, National Gallery of Australia.
Photo Australia, Melbourne and Autograph, London are collaborating to present an international season of PHOTO LIVE talks. The ten free online conversations between artists, photographers and curators from Australia and the UK will explore ideas of identity and belonging in the context of human rights, representation, and social justice. This program highlights the importance of centring black, Indigenous, feminist, queer and other marginalised voices and storytelling in photography.

Ope Lori (UK) was in conversation with Shaune Lakin, Head Curator of International Art, National Gallery of Australia, on September 22, 2021. Watch the recording below.
ABOUT OPE LORI
Ope Lori (b. 1984, London, UK) works across visual arts, activism and academia, using lens-based media to investigate politics of difference, often in relation to cultural and sexual identity. Her research-led practice, which includes writing as well as image-making, invites viewers to question power dynamics in both private and public spheres, routinely challenging societal stereotypes and myths. Lori is the author of the forthcoming book, Beyond the Feminine: The Politics of Skin Colour and Gender in Visual Representations (Bloomsbury, 2022) and the Director of PILAA (Pre-Image Learning And Action), an arts and diversity company that she founded in 2015. Her work has been exhibited at La Fondation Blachére, Apt; Santorini Biennale of the Arts (2012); 198 Contemporary Arts and Learning, London; and Beaconsfield Gallery, London.
ABOUT SHAUNE LAKIN
Shaune Lakin is Head Curator of International Art at the National Gallery of Australia. He was the gallery's Senior Curator of Photography between 2014‒20, and before that Gallery Director, Monash Gallery of Art, in Narrm/Melbourne. Previous positions include Senior Curator of Photography at the Australian War Memorial, where he wrote the first major history of Australian conflict photography, and Curator of International Art at NGA. Shaune's work has often focused on the histories of feminist photography in Australia, including the exhibitions The body electric (2020), Colour my world (2015), Photography meets feminism: Australian women photographers 1970s‒80s (2014) and Sue Ford: time machine (2011). His curatorial projects are usually collaborative, most often with colleague Anne O'Hehir.
This program is part of the UK/Australia Season 2021-22—a collaboration between the British Council and the Australian Government's Department of Foreign Affairs and Trade, under the patronage of Her Majesty the Queen. The theme of the Season is 'Who Are We Now?' and will reflect on the shared history, current relationship and imagine the future of the two nations.
This talk takes place as part of the Autograph exhibition Care | Contagion | Community — Self & Other (23 September 2021 – 12 February 2022) and in the lead up to PHOTO 2022 International Festival of Photography (29 April – 22 May 2022).