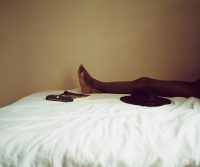 PHOTO LIVE: Othello De'Souza-Hartley
20.10.21
Artist Othello De'Souza-Hartley (UK) in conversation with Andy Butler, Acting Artistic Director, West Space.
Photo Australia, Melbourne and Autograph, London are collaborating to present an international season of PHOTO LIVE talks. The ten free online conversations between artists, photographers and curators from Australia and the UK will explore ideas of identity and belonging in the context of human rights, representation, and social justice. This program highlights the importance of centring black, Indigenous, feminist, queer and other marginalised voices and storytelling in photography.
Artist Othello De'Souza-Hartley (UK) was in conversation about their practice with Andy Butler, Acting Artistic Director, West Space on Wednesday 20 October, 2021. Watch the recording below.
ABOUT OTHELLO DE'SOUZA-HARTLEY
Othello De'Souza-Hartley (b. 1977, London, UK) is a visual artist whose artistic vocabulary encompasses photography, film, performance, sound, drawing and painting. Working across multiple interdisciplinary platforms, his practice is concerned with ideas around the human body as a site of embodiment, often engaging with self-portraiture, masculinity and vulnerability as visually performed ideas. De'Souza-Hartley's solo exhibitions include Campo XXV Aprile (Rome Art Week) (2018); Outside the Zone Gallery, London; Sulger-Buel Gallery, London; and Camden Arts Centre, London. His work has featured in group shows at the Museum of Liverpool; Shanghai Centre for Photography; Open Eye Gallery, Liverpool; Gasworks, London; and APT Gallery, London, among others.
ABOUT ANDY BUTLER
Andy Butler is an artist, writer and curator. Andy's practice focuses on the ways societal structures of power shape cultural production. His writing on art and politics has been published to wide acclaim, including in frieze, The Saturday Paper, The Monthly and many more. He has appeared in many museum catalogues and artist monographs, as well as anthologised in essay collections. As an artist, he works across painting, film, performance and installation. His work has been exhibited nationally and internationally at artist-led and public galleries, and has participated in key international residencies in the Philippines and Indonesia. As a curator, he tackles questions of how predominantly white cultural institutions engage with the practices of those who have historically been underrepresented in public cultural discourse, and the slippages and contradictions we find ourselves in when those who hold power talk about social transformation and equity. He is Acting Artistic Director at West Space, a key artist-led contemporary art organisation in Narrm/Melbourne.
The talks take place as part of the Autograph exhibition Care | Contagion | Community — Self & Other (23 September 2021 – 12 February 2022) and in the lead up to PHOTO 2022 International Festival of Photography (29 April – 22 May 2022).
This program is part of the UK/Australia Season 2021-22—a collaboration between the British Council and the Australian Government's Department of Foreign Affairs and Trade, under the patronage of Her Majesty the Queen. The theme of the Season is 'Who Are We Now?' and will reflect on the shared history, current relationship and imagine the future of the two nations.