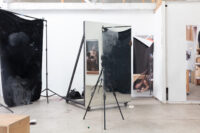 PHOTO LIVE: Paul Mpagi Sepuya
13.4.22
Watch an exclusive artist talk with Paul Mpagi Sepuya in advance of his PHOTO 2022 solo exhibition at the Centre for Contemporary Photography, in conversation with PHOTO 2022 Artistic Director Elias Redstone.
Ahead of his solo exhibition showing at the Centre for Contemporary Photography as part of PHOTO 2022, Paul Mpagi Sepuya presents an artist talk on his influences, previous works and current works in the Festival.
Following critically-acclaimed presentations at MoMA and the Whitney Biennial, PHOTO 2022 brings together recent works that foreground the elemental conditions of Sepuya's practice, including the photographer's tools and studio, mirrors and velvet backdrops, and the interrelationship of photographer and subject.
Paul Mpagi Sepuya was in conversation with Elias Redstone on 13 April, 2022.
You can watch the recording below. Please note, due to a technical difficulty the closed captions do not start until 12:27:53.