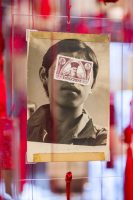 PHOTO LIVE: Phuong Ngo
22.9.21
Phuong Ngo (AU) in conversation with Salma Tuqan, Deputy Director, Delfina Foundation (UK).
Photo Australia, Melbourne and Autograph, London are collaborating to present an international season of PHOTO LIVE talks. The ten free online conversations between artists, photographers and curators from Australia and the UK will explore ideas of identity and belonging in the context of human rights, representation, and social justice. This program highlights the importance of centring black, Indigenous, feminist, queer and other marginalised voices and storytelling in photography.
Phuong Ngo (AU) was in conversation with Salma Tuqan, Deputy Director, Delfina Foundation (UK) on 22 September 2021. Watch the recording below.
ABOUT PHUONG NGO
Phuong Ngo is an artist living and working in Melbourne, Australia. His practice is concerned with the interpretation of history, memory and place, and how it impacts individual and collected identity of the Vietnamese diaspora. Through archival process rooted in a conceptual practice, he seeks to find linkages between culture, politics and oral histories and historic events, which intern dictates the materiality of his artistic output.
ABOUT SALMA TUQAN
Salma Tuqan is a Contemporary art and design curator and Cultural Strategist. She is Deputy Director of Delfina Foundation, an inter-disciplinary non profit dedicated to artistic exchange through residencies, exhibitions and public programming. Prior to Delfina Foundation, she was the Contemporary Middle East Curator at the V&A, responsible for Middle Eastern art and design programming, curator of the Jameel Prize and co-founder of the 'Culture in Crisis' series. She has contributed to other projects as an independent curator, including Palestine c/o Venice at the 53rd Venice Biennale (2009) and Until my veins collapse at Mac Lyon (2022). She works with cultural organisations on strategy and is advisory member of the Arab Image Foundation (Beirut), and NuMu (Guatemala City).
This program is part of the UK/Australia Season 2021-22—a collaboration between the British Council and the Australian Government's Department of Foreign Affairs and Trade, under the patronage of Her Majesty the Queen. The theme of the Season is 'Who Are We Now?' and will reflect on the shared history, current relationship and imagine the future of the two nations.