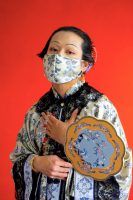 PHOTO LIVE: Scotty So
6.10.21
Scotty So (AU) in conversation with Mariama Attah, Curator, Open Eye Gallery (UK).
Photo Australia, Melbourne and Autograph, London are collaborating to present an international season of PHOTO LIVE talks. The ten free online conversations between artists, photographers and curators from Australia and the UK will explore ideas of identity and belonging in the context of human rights, representation, and social justice. This program highlights the importance of centring black, Indigenous, feminist, queer and other marginalised voices and storytelling in photography.
Scotty So (AU) was in conversation about their practice with Mariama Attah, Curator, Open Eye Gallery (UK) on Wednesday 6 October,  2021. Watch the recording below.

ABOUT SCOTTY SO
Scotty So is a Melbourne based artist who works across media, using painting, photography, sculptures, site-responsive installation, videos and drag performance. Driven by the thrill of camp, he explores the often-contradictory relationship between humour and sincerity within lived experience. Born and raised in Hong Kong, So graduated BFA Honours at the Victorian College of the Arts with First Class Honours in Melbourne, Australia, 2019. So's work has been displayed in Hong Kong, China and Australia, including the Triennial 2020 of the National Gallery of Victoria. Scotty So is represented by MARS Gallery in Australia.

ABOUT MARIAMA ATTAH
Mariama Attah is a photography curator, writer and lecturer with a particular interest in overlooked visual histories, and how photography and visual culture can be used to amplify underrepresented voices. Mariama is curator of Open Eye Gallery, Liverpool. She was previously Assistant Editor of Foam Magazine. Prior to this, she was Curator of Photoworks, where she was responsible for developing and curating programs and events including Brighton Photo Biennial and was also Commissioning and Managing Editor of the yearly magazine Photoworks Annual.
This program is part of the UK/Australia Season 2021-22—a collaboration between the British Council and the Australian Government's Department of Foreign Affairs and Trade, under the patronage of Her Majesty the Queen. The theme of the Season is 'Who Are We Now?' and will reflect on the shared history, current relationship and imagine the future of the two nations.