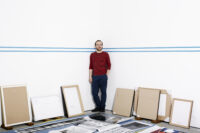 PHOTO People – CCP's new director Daniel Boetker-Smith on why photography is for everyone
3.11.22
Bringing a range of professional experiences to the role, the Centre for Contemporary Photography's new director Daniel Boetker-Smith talks knocking down walls and welcoming the community back to CCP.
Daniel Boetker-Smith has been director of CCP for a matter of weeks, and he's already making changes. "It should be a place where anyone can come to think about and look at photography, rather than an austere gallery space," he says. "I want to dismantle that a bit."
He means this literally. Those familiar with the gallery will notice that a wall has been pulled down in the middle of the space, opening up the bookshop. "That's part of making it a space where people want to hang out, rather than just come in, look at the work on the wall and depart," he tells us.
For the last eighteen years, Boetker-Smith has been working in photography education, including the last eight as the Dean of Studies at Photography Studies College. He was formerly also the director of the Asia-Pacific Photobook Archive, which aimed to get the work of Asia-Pacific photographers in front of international curators. In one of those funny coincidences of life twenty years ago he sat behind the desk at the CCP as a volunteer. And before that, he was a high school kid who spent all his time in the darkroom.
"This is the only career path I've ever wanted to follow," he says.
As his academic role became increasingly administrative, Boetker-Smith started to look around for more creative outlets, writing for photography magazines, and curating shows when he got the chance, including co-curating (with Pippa Milne) Not Standing Still: new approaches in documentary photography at the Monash Gallery of Art for PHOTO 2021.
"In hindsight I was getting the experience that has allowed me to take on this role," he says. "It's a big shift for me, but I think I'm well-placed for it." At the same time, he is not shy of the challenge that lies ahead in taking CCP forward. "It's been around for forty years, and I'm really excited about taking it into a new phase."
Boetker-Smith is a passionate photography evangelist. His vision for CCP is as a space that connects the local community to the world. Boetker-Smith envisions CCP as the answer to any questions aspiring photographers or appreciators of the medium might have. He throws some of these theoretical questions around during our chat: Where do I learn about photography? Where can I discover the importance of photography? Where can I see a great photography show? Where can I pick up a book on this or that photographer? How do I meet other photographers? And, from Boetker-Smith's perspective, the most important question: How do we connect photography in Australia to the wider world?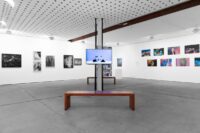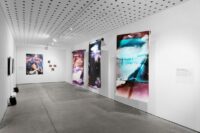 The show on the walls when we visit is called States of Disruption, featuring artists from Australia and overseas. Photos are digitally altered, AI generated, montaged, projected, juxtaposed and physically cut up and reassembled. It presents photography as an ever-changing and, above all, democratic medium. Postponed due to the pandemic, one of Boetker-Smith's first acts at CCP was to finally get it on the walls, adding some additional work by well-known international artists in the process.
"We have someone who's just graduated from College a few years ago exhibiting alongside Mishka Henner, who's been nominated for the Deutsche Börse Photography Foundation Prize, one of the biggest photography prizes in the world," says Boetker-Smith. "If I can bring all these people together, and one local photographer gets something out of that, or gets noticed, it's worth it."
In the coming months, the CCP's spaces will become more of a community hub once again, back to pre-Covid levels and beyond. Expect more talks, events, hands-on workshops and masterclasses. Expect younger audiences, from school kids and up, something for everyone.
"The reality is that in schools, photography isn't a focus anymore," he says. "Kids are teaching themselves. That 13-18 year old group needs support. They're really hungry for it." Teaching, he says, is about showing students that they're storytellers. "They have to find the stories that mean something to them, that they're in love with. Once they find that, then they're going to be a good photographer. So our job is to create a space for them to find their stories, and to meet others on that journey too."
CCP is one of the only places of its kind in Australia—a not-for-profit hub for photography that can be responsive, agile and experimental. "So I want to get back to those basics: showing amazing work from Australia and overseas, and making connections across the world. Photography reflects our world back at us, and allows us to think on the big questions," says Boetker-Smith.
He doesn't just mean gallery-goers and art-lovers. Boetker-Smith wants to see the focus widen to anyone and everyone curious about images and visual culture. "CCP will be accessible to a broad range of people, because in reality photography touches every part of society and culture: the environment, politics, love, death… It's not an exclusive artform. We all take photos. It's for anyone. Everyone has a story to tell."