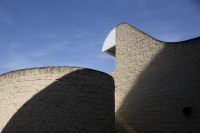 PHOTO Spaces – Museum of Australian Photography
22.3.23
Monash Gallery of Art has rebranded as the Museum of Australian Photography – or MAPh to its friends – to celebrate its commitment to collecting and exhibiting photography. To mark this exciting new chapter in the organisation's history, we spoke with MAPh's Director Anouska Phizacklea about the rebrand, exhibition highlights, and why it's important to have a museum dedicated to photography in Australia.

Congratulations on announcing the new Museum of Australian Photography! Can you tell us what inspired the change in name? And what does the rebrand mean for the organisation?
Thanks so much. Yes, the name Monash Gallery of Art was established more than thirty years ago and was at a time when the gallery still collected and exhibited all types of visual art, including paintings and sculpture, as well as photography. However, our gallery goes back even further than that, having formed in the late 1970s when the City of Waverley had the vision to found a public gallery. Then in the early 80s, we took the bold step to focus solely on collecting photography. In doing so we became the only public gallery dedicated to collecting Australian photography in the world, so it just made sense to update the name in order to reflect what we actually do.
We're incredibly excited to have launched our new identity MAPh and the name perfectly articulates what we're all about and will help prevent any confusion going forward. By becoming MAPh, we aim to increase the reach, profile and engagement with global audiences as we cultivate a community that is actively engaged with Australian photography and its stories. It's all about empowering and celebrating our artists and cementing our standing as the preeminent national institution dedicated to championing Australian photography.
Why is it important to have a museum dedicated to photography in Australia?
Photography is a powerful medium that is easily accessible to everyone. It reflects, responds and shapes the way we see our world and our connection to it. Its importance has been well documented and debated by countless writers. Through photography we gain insight, whether truth or fiction, challenging and enriching our perception of the world.
MAPh's photographic collection and exhibitions celebrates Australian artists, stories and identity and preserves and showcases our cultural heritage. This is what makes MAPh an important destination for our communities and the arts sector as a whole.
Photography is a relatively new mode of creative expression compared to other art forms and MAPh recognises its vital role in culture and society. Globally, we share millions of photographs every day and it has become the most democratic of art forms. Indeed, for many of us it is how we connect and communicate with each other. Understanding and celebrating this unique artform and how it has evolved over time is vital to capture and preserve for future generations.
So much has happened since you became the director in 2017. What have been your highlights over the last 6 years?
Yes, a lot has happened since 2017, indeed the world has changed immensely. Translating what we do through a digital lens certainly focused our attention on what matters to both digital as well as to physical audiences. Standing in front of photographic work impacts you in a way a digital representation does not. Its texture, scale and presence matters. We knew this before, but it became like a beacon on the hill. This led us to seek ways to seamlessly integrate the digital with the physical realms. Most recently this has included a new website with a feature called MyMAPh, where you can curate your own exhibition from our collection. This is something that addresses the needs of the education sector as well as photography lovers, and something that we're really excited about.
A particular highlight for me is the commissioning program we established which led to the creation of work that has currency and relevance for MAPh and our community. This began with the Bill Henson commission and has blossomed into commissioning exhibitions such as Portrait of Monash: the ties that bind and STAGES: photography through the pandemic, each showcasing leading Australian photographers who responded powerfully to the commission themes.
Our touring program has gone from strength to strength. We currently have three exhibitions on tour and in 2019 we launched the first exhibition in our international touring program which saw John Gollings: the history of the built world travel to venues in India. This resulted in an inbound tour from the Museum of Art and Photography in Bangalore. These cross-cultural exchanges connect a global audience to Australian photography, which is something incredibly important for the development of photography within our shores.
Lastly, publishing is a passion of mine. It was incredible to partner with Thames & Hudson to publish Bill Henson: the light fades but the gods remain, which has international distribution. Publications of this depth add to the critical debate, continuing and deepening the conversation on artists practice and subject matters. Our next major publication was View Finding, which was published in celebration of our 30-year anniversary. It incorporated a work by every artist in our collection and invited contributions from key people throughout our history, from the Mayor at the time the gallery opened in 1990 to Bowness Photography Prize judges and past Directors and Curators. It was a joy to delve into the incredible history and legacy of all those who came before us. It is their shoulders we stand on today.
Looking back further, what have been the key exhibitions or events that have helped define the organisation?
There have been many key exhibitions that have helped define the organisation that it is hard to narrow down to just a few. However, one that springs to mind in particular is the William and Winifred Bowness Photography Prize. Over the last 17 years, it has emerged as an important annual survey of contemporary photographic practice in Australia and one of the most prestigious prizes in the country. The winning work is awarded $30,000 and is acquired into our collection of Australian photographs. The Smith & Singer People's Choice Award recipient is voted by the public and the artist receives $5,000. The prize continues to evolve and in 2022 we launched the $10,000 Wai Tang Commissioning Award. The artist is selected from the Bowness Photography Prize and shortlists are invited to exhibit alongside the Bowness Photography Prize season.
The Luminaries exhibition season has also been a gamechanger. It began in 2018 with an exhibition that focused on the practice of Robyn Stacey. The annual exhibition is supported by our luminary donors and creates a vital platform to celebrate the practice of leading Australian photographers with an exhibition that is ambitious in scope and scale. For example, the support of the Luminaries enabled Hoda Afshar to present the incredibly significant body of work Speak the Wind as part of PHOTO 2022 festival. There have been so many wonderful developments over the years and there will be more to come.
What can people expect to see at the Museum of Australian Photography in the years ahead?
This year we have an incredible line-up of exhibitions. Our Luminary exhibition will be a major survey of Anne Zahalka's practice entitled ZAHALKAWORLD – an artist's archive and we will recreate her house studio within the gallery space. In 2024 our PHOTO exhibition season will focus on Environmental futures and enter into an international dialogue about our planets condition and what our future may look like.
And finally, what impact do you hope the new Museum of Australian Photography will have for the photography sector in Melbourne and Australia?
For over 30 years MAPh has been the only public gallery solely dedicated to collecting Australian photography. Over this time, we have amassed a collection that uniquely speaks to our shared history. The new branding doesn't change our remit it simply encapsulates clearly our unique focus and standing within the incredible network of photographic institutions across the sector.
Victoria is fast becoming the nucleus for photography in Australia. We have the biannual PHOTO International Festival of Photography as well as an ecosystem of photographic institutions. You only need to look at the organisations, both public and commercial, that are curating a response to PHOTO to gain insight into the breadth that exists within the sector in Victoria. This includes organisations dedicated to the artform such as Centre for Contemporary Photography and MAPh to major institutions across the state including regional galleries that have a focus on photography as well as the dynamic network of smaller arts organisations. Victoria is also home to universities with specialised photography departments. MAPh will help support the fragile ecosystem that exists for the arts in Australia and strengthen the network of major institutions dedicated to the art form, driving new audiences and engagement to the arts through photography.