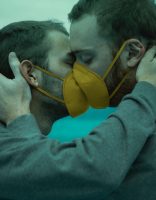 Apply now for Portrait of Humanity 2022
28.10.21
Entries are now open for the Portrait of Humanity award, which will be exhibited in Australia exclusively at PHOTO 2022 International Festival of Photography.
Portrait of Humanity captures the moments that make us what we are—a quiet gesture of thanks, a look that says, 'I've got you', an exhale that says, 'I'm home'. Previous editions sit amongst the most viewed photographic exhibitions in history. Portrait of Humanity 2022 invites photographers around the world, of any level, to show their interpretation of humanity.
30 winning images and three winning bodies of work will be exhibited worldwide as part of the Portrait of Humanity Global Tour 2022, including at PHOTO 2022 as a free outdoor exhibition. For more information and how to enter please visit Portrait of Humanity.
The presentation at PHOTO 2022 is part of Photo Australia's AU/UK Season of Photography, supported by the British Council and featured in the UK/Australia Season 2021-22—a collaboration between the British Council and the Australian Government's Department of Foreign Affairs and Trade, under the patronage of Her Majesty the Queen. The Season is a unique programme of more than 200 live and digital events, collaborations and sector engagement symposiums, celebrating the diverse and innovative artist community and cultural sectors of each nation. The theme 'Who Are We Now?' will reflect on the shared history, current relationship and imagine the future of the two nations. View full program here.
Portrait of Humanity - Selection of previous winners