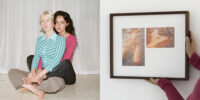 Q&A: Honey Long & Prue Stent on their Limited-Edition Print
6.7.23
Following the release of their limited-edition print, we caught up with Honey Long & Prue Stent to dive deeper into the process of crafting their first book 'Drinking From The Eye'.
Based in Melbourne, Honey Long and Prue Stent are artists who've been working together for over 10 years. They've developed their signature style of experimental photography-performance interventions in familiar and alien environments. With careers spanning traditional photography, sculpture, performance, and fashion, Long & Stent are masters of making us feel a certain type of way about having a physical body, how we perceive bodies, and the relentlessly slippery relationship between physicality and nature.
Hi Honey & Prue, congratulations on your new gorgeous new Limited-Edition Print 'Wax' Diptych'. This work was a spread in your recently launched PHOTO Editions photobook 'Drinking From The Eye'. What ideas were you interested in exploring through the book format?
Honey & Prue: We wanted the book to feel really seductive, pulling viewers into our shared visual world, where bodies, creatures, organic and inorganic matter overlap in unexpected ways. Everything is very juicy and bright and we wanted it to feel both intimate and voyeuristic at the same time. It speaks to a desire we have to see ourselves reflected in the natural world and also an ongoing fascination with uncovering hidden realities. There are a lot of macro and detail shots in the book which are like these little gems we find in the everyday. The body is also ever-present, but is dissolved within the wider landscape and a web of material relations, so that these creaturely hybrids are created, in constant states of becoming and flux.
Drinking From The Eye's a great title. How'd you come up with it?
Honey: I thought of the title while I was reading an essay by Charles Taylor in this Magazine Prue has on abstract eroticism. In it he talks about the eye as a portal, as something inherently sensual and bodily that mediates internal and external worlds which all felt very relevant. As a title 'Drinking from the Eye' speaks to a way of seeing that is rooted in sensing, feeling and touching but also captures this feeling of uneasiness that exists in our work.
What was your experience creating your first photobook like? How'd it differ to say how you'd create an exhibition?
Prue: I was quite surprised with how much I had to switch my mindset because I'm used to spending a lot of time focusing on the individual works. In an exhibition context you're thinking a lot more about the printing/ framing/ scale of each specific work and how that will translate onto the physical walls of a gallery space. Whereas with the book I found there was this big shift to thinking about the sequencing of the works and how we could build a sense of growing intrigue with the turning of each page.
Juxtapositions of organic and inorganic, animate and inanimate subjects feature prominently in Drinking From The Eye to great effect. Could you tell us a bit about the pairing of the two images in 'Wax Diptych'?
Honey: Both of these photos were taken in very different environments which is partly why I think the pairing is so satisfying. One was in the ocean and the other was in the desert, in an opal mining town on Barkindji country in regional NSW. We were visiting the town after a big rain storm and there was something really soothing about the way the water was resting within such a harsh landscape. Both photo's capture a feeling of merging and of two bodies meeting each other. One being a friends body and the ocean and the other being rain and hot earth.
You've mentioned in the past that your collaborative practices combines photography and performance, and that it doesn't matter who's holding the camera. Could you share how you came to be working together in this way, and your process in producing the images in Drinking From The Eye?
Honey: Our practice sprang very organically from our friendship and being able to create a space where we were really comfortable experimenting with our bodies together and documenting that process. So much of what drives the work comes from our friendship and the fact that we spend so much time together so it doesn't feel like there are any fixed roles in our process. We travel around a lot and the photos in the book were taken mainly in so-called Australia but also overseas as well. Wherever we find ourselves, we collect moments and details from that environment and then it's a process of refining and weaving them together.
We're so happy to have collaborated with you on these projects – what has it meant for your practice publishing your first photobook and now also releasing a limited edition print?
Prue: It feels like a huge milestone as it's something we have talked about for years. This book means a lot, in many ways it's like a process diary that traces our whole practice together. The works are very personal and intimate but I love that we now have this physical object to share with the world. I'm also really excited about the prospect of reaching a new audience both here in Australian and overseas and I'm intrigued to see what conversations and future projects might arise as a result. Releasing the print is a wonderful opportunity to make our work more accessible and also help support future opportunities for artists in the PHOTO festival.
You've recently had major successful projects in and out of the traditional 'art world'. What's next for Honey & Prue?
Honey: It's been a while since we've had the opportunity to get really stuck into making new work and I think we are both excited to do that. We're going to be in Photo Frome, a photography festival in Somerset UK in June. At the end of the year we are planning to go over to Europe to do a residency in Hydra. At the same time we have a solo show with Spazio Gomma in Rome that we plan to visit and we will also be a part of two other group shows; one with Moon Man studios in Malta and another with Fotografiska in Berlin.
◉