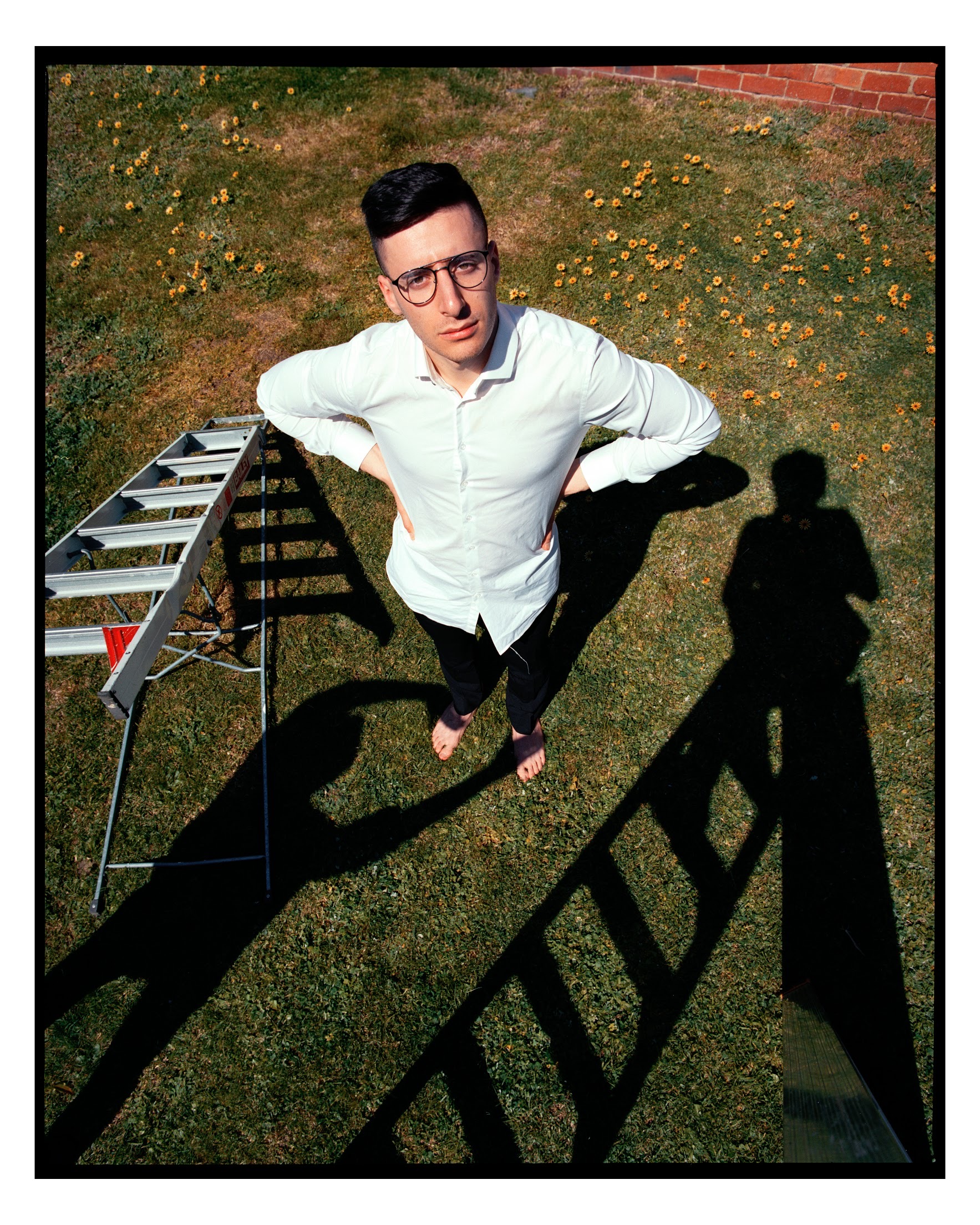 New Photographers: Q&A with Jake Nemirovsky
2.3.22
Jake Nemirovsky is an artist based in Melbourne and recently completed his Bachelor of Arts (Photography) (Honours) at RMIT. Jake's photographic practice blurs the distinction between the real and the fictional, reassessing documentary image-making conventions in light of an unfolding post-truth world. Jake is paired with Copenhagen-based collective Sara, Peter & Tobias as his mentor. 'The Merge' by Sara, Peter & Tobias was presented as part of PHOTO 2021.
Hello Jake, please start by telling us something about yourself that is not in your bio.
Hello PHOTO 2022 team : ), I spend a lot of time getting lost in my surroundings – making photographs is an extension of how I see and think. I then follow the rabbit hole and see where it leads. A few years ago, I came across the writing of Rebecca Solnit and it really resonated with me. Her writing gave words to feelings that I had but could not describe myself. I go by instinct with my photography since it's the most logical way for me to understand the world. It is a big part of how I live, but also make work.
What inspired you to work with photography?
I have a family history of artists and creatives; both my grandfathers are painters and Marqueteries, my aunty is an antique restorer and my mum makes handmade jewellery. Photography came to me when I was around 12 and it was a way for me to communicate and meditate with my thoughts and feelings, though I think my family lineage of thinking creatively somewhat influenced it too. I've always found it challenging to express an idea or thought with words alone and so photography seemed to be that missing link. Words can only describe so much and they make the assumption that things are definitive, though an image can have multiple meanings and interpretations; this ambiguity is what draws me in.
How would you describe your practice? Can you explain your artistic process?
I acknowledge that my practice sits somewhere in the 'documentary arena', though I wouldn't classify it as documentary photography. I don't like the term documentary, as it implies that photographs are evidentiary and untampered, though this is not the case.
For lack of a better word, I'll use it loosely here. My practice sits somewhere in expanded interpretative documentary using a mixture of fiction and non-fiction storytelling to discuss broader themes or ideas around the contemporary experience. When I'm making work, there are no rules of what is included or how I make photographs—everything is possible and interconnected. Sometimes it involves walking and getting lost for a while and other times it involves recreating thoughts and ideas that are in my head into physical form. Working on projects which are long form has allowed me to slow down and really examine an idea. This has led to a slower process of making photographs, though sometimes it feels hard to come to an end of a project. I usually print out all my work, stick it on my wall and wait to get sick of certain images. This is when I know what works, what doesn't work and what is left to make.
What can people expect to see from you at PHOTO 2022's New Photographers exhibition?
It will be a collimation of the last few years of work I've made for my project All that is Solid Melts to Air. I want to be playful with the presentation, while also showing the interconnection between living beings and landscapes in a free-flowing narrative form.
Where do you draw inspiration for your work from?
I spend a lot of time looking at photobooks and photographers that inspire me: Bharat Sikka, Christian Patterson, Max Pinckers, Lieko Shiga, Katrin Koenning and Trent Parke to name a few. I'm also grateful for the mentors and friends who have helped me along the way to make the work. Without them, the work wouldn't exist. The project is an extension of my everyday encounters and thoughts with the world.
What does the PHOTO 2022 theme Being Human mean to you?
As humans, we have an understanding that every element in this world is impacted by one another. Within the world, there are affects that exist in the physical world—in the environment, living beings, human-made space and our own body. While we are all independent beings, whether living or not—everything that exists in this world impacts society and the environment. I hope that my work makes people think about the impact we as humans have on our world. We can all feel that our existence has become extremely precarious and it is humans' responsibility for what the future will hold.
As part of the New Photographers program you have been paired with Sara Brincher Galbiati from Sara, Peter & Tobias as your mentor. Can you let us know why you are excited about connecting with them and what you are hoping to gain from the mentorship?
Sara and I make work in a similar way that doesn't reinforce traditional documentary methodologies and notions but push up against them, blending the boundaries between fiction and non-fiction in this new photographic form. It's refreshing to speak with Sara who similarly understands my process of making work and can give insight into my work from a new perspective. Sara has been an encouraging mentor and always speaks with excitement about the possibilities for the exhibition. it has been a reinvigorating experience that has given me an opportunity to speak openly about my process, while also work with someone who thinks about photography and the world in a similar fashion.
When you are not working, what do you enjoy doing most?
Tending to my plants, getting lost and being in the darkroom 🙂
What advice would you give to your 15 year-old self?
Follow the process, it's all an important learning experience.