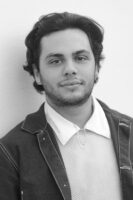 New Photographers: Q&A with João Marco Deloie
2.3.22
João Marco Deloie is an Australian-born artist of Brazilian-German descent. He is currently undertaking a Bachelors of Film and TV (Honours) at the Swinburne University of Technology. João's work synthesises cultural practice and artistic practice into one, providing visibility through a decolonising lens. He is paired with American artist, Sam Contis as his mentor. Sam was a commissioned PHOTO 2021 artist as part of the Metro Tunnel Creative Program.
Hello João, please start by telling us something about yourself that is not in your bio.
Hello, my name is João, I am an emerging artist who is working and living on Wurundjeri Country (Melbourne). Something about me not in my bio – well, this year I've transferred into F&TV at Swinburne! So I will write and direct my first short film (going straight into third year). I'm definitely excited to kick off a filmmaking practice! Feels long overdue.
What inspired you to work with photography?
Growing up, I was a huge fan of watching movies and romanticised working within the film industry. When I was a teenager, I wanted to shoot and produce short films, but I found them inaccessible at the time because of the costs of acquiring equipment and other production expenses. I had a digital camera and an old SLR film camera passed onto me by a friend from school when I was 17. At the time, I was drawn to photography as I felt it would be more accessible than shooting a film (especially since I was super broke), but still similar to video and filmmaking in that it is a visual storytelling median.
How would you describe your practice? Can you explain your artistic process?
Being an emerging artist, like many others, I am exploring different aspects of my photography practice. All of it so far has still fallen under the bracket of photographic art (or at least video). For example, I currently am working on a project using camera-less photography techniques (i.e photograms and cyanotypes) and my solo exhibition in 2021 was presented as a series of photographic works, publication and audio installations. I learned a lot through self-publishing and I definitely intend to keep publications as a key outcome of my work.
I often think about big projects and would say that as an artist, I usually have a set of conceptual project ideas, or even just subject matters that I want to explore and see photography and video as the best tools of expression at the moment. Even though I have these major project ideas, which may often take a very long amount of time, I still really enjoy casually photographing. I make sure that I have a relationship with photography where I don't have expectations (like a project outcome); instead I just do it because I enjoy it. This is so I can continue growing as a photographer and not lose my practice. You can always get some unexpectedly good work this way too.
What can people expect to see from you at PHOTO 2022's New Photographers exhibition?
A self-portrait of three different places that I have spent a lot of time in over the last few years. I don't want to give away too much!
Where do you draw inspiration for your work from?
I source most of my inspirations from my own life experience, identity, community, and belief systems. Most of my work has thematically related to culture, nature, family, and is often nostalgic. My own pursuit of decolonisation has motivated my practice where I have connected to my cultural roots and provided representation through photography. We can see this in my last exhibition Aikuguabete, where I documented environments of the Brazilian Amazon and paired these works with audio recordings. These recordings shared the traditional knowledge and stories of how these environments came to me, and so the project aimed to decolonize representations of this region in Brazil.
What does the PHOTO 2022 theme Being Human mean to you?
I see it as an investigation of identity (individually and collectively). I see it as a way for audiences to learn new perspectives on our world through photography.
As part of the New Photographers program you have been paired with Sam Contis as your mentor. Can you let us know why you are excited about connecting with them and what you are hoping to gain from the mentorship?
I'm a big of Sam's work and I feel privileged to have them as a mentor. I'm excited to hear the perspectives of an established artist whose practice has stayed in photography. There are lots of things I want to ask about. I guess some questions I have would be where they source their inspiration, what their workflow is during shooting, sequencing and questions that are more related to how they curate and present their work. Sam has published two books through Mack, so I definitely hope to get some feedback on the publication that I released! Both the books content and  its presentation/design. I'm interested to hear how their practice has matured and changed over time and how they sustain it today. I would also like to hear where they think I can improve both technically with my photography and their thoughts on how I frame my work conceptually. Having said that, I'm pretty open to how the mentor sessions will go!
When you are not working, what do you enjoy doing most?
I love watching films, I love exercising, as well as spending time in nature. I like getting out of the city often. Having grown up in a very regional area, I definitely miss being surrounded by the beautiful nature.
What advice would you give to your 15 year-old self?
Probably to exercise more and drink way less alcohol (lol). Also, hurry and pick up a camera already. Something like that!