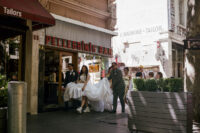 Q&A with Sarah Pannell
1.6.22
Sarah Pannell (b. 1988, Melbourne/Naarm) is an Australian photographer exploring culture, landscape and community.
Driven by a fascination with humans, and their ever-evolving dance with surrounding environments, Sarah's projects focus on everyday life, preservation of traditions and communities around the world. Sarah was commissioned by Photo Australia in partnership with Metro Tunnel Creative Program to create a new series 'The People are the Times' for PHOTO 2022. Her publication 'Tabriz to Shiraz' (2019) was published by Perimeter Editions and Hillvale.
Hello Sarah, please start by telling us something about yourself that is not in your bio.
I love to cook and when I was in high school, I dreamt of becoming a chef. But I quickly discovered the work hours of a chef were not for me. Cooking for my friends and family makes me very happy and I when I'm not in a hurry, I find being in the kitchen very meditative.
Can you explain your artistic processes to us? Has this changed over time?
Research varies depending on the body of work I'm pursuing, but generally I'll do online research and study literature about whatever I am wanting to explore through documentary photo or video. My method has shifted a little overtime, but generally I like to start shooting and then have the option to review and return to shoot more. I make many passes through the selection of images and have different methods of flagging and editing potential selections in a digital catalogue. If I'm working on a longer sequence, perhaps for print, I benefit from small proofs to play around with sequencing and flow.
What has been the most rewarding project you have worked on so far?
My project Tabriz to Shiraz holds a special place in my heart. It's a story in progress for me, as I continue to create works in Iran and maintain the friendships I made there. Being able to produce a photo book, from my time in Iran, and then return to the country and share it with the people who made it possible was incredibly rewarding.
Why is photography an important art form to engage with?
Photography can be incredibly inclusive and collaborative. Photos are easily shared, duplicated and adjusted. The process isn't as limited as just pressing the shutter – there is a whole workflow that varies greatly from artist to artist. I believe that while it can be a very personal intimate practice it also has the potential to engage others through editing, narrative and sequencing. Even in a world with an infinite number of images (both still and moving) I still wholeheartedly believe in the power of photography, even with just a single image.
What led you to photography (rather than any other art forms)?
I loved studying art in high school, particularly art theory. However, I wasn't very good at painting or print making which where the mediums I mainly explored during those years. I was always drawn to using photography to document my teenage years, but never made it into a darkroom or thought about it in a creative way. It wasn't until I was studying political science and history on student exchange in The Netherlands that I began to photograph my travels and explore photojournalism. I soon became an avid (self-taught) photographer and once I graduated from International Studies, I applied for the documentary photo program at RMIT and it snowballed from there.
When you are not working what do you enjoy doing?
I began weekly Arabic language classes at the start of 2020, and that's now become a part of my weekly routine. I study with a friend, which makes it easier to maintain, although nothing about Arabic is easy. During the creative challenges of 2020-21 lockdowns, having the routine and structure of Arabic classes and homework gave me something to concentrate on while my artistic brain was struggling. Apart from that, I love reading, watching films and walking during golden hour.
What advice would you give to your 15-year-old self?
To worry less about what other people (might) think of you and enjoy being young and (relatively) carefree.