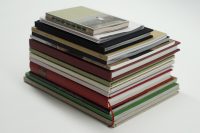 Q&A with Australian Photobook Awards
17.11.21
As of 2021, Photo Collective is taking custodianship of the Australian side of the Australia & New Zealand Photobook Award, which has been facilitated by Momento Pro since 2011. Photo Collective talks to us about becoming custodians of this significant award and what to look forward to in this new stewardship.
It is exciting to hear that Photo Collective are now running the Australian Photobook Awards, passed on from the stewardship of Momento Pro. Why is it important to acknowledge and celebrate photobooks in this way?
Thanks so much guys. We are so proud and honoured to have been asked to take on the custodianship of the Australian side of this significant award from our friends at Momento Pro.
Over the past decade, the ANZ Photobook Awards have helped to progress the careers of  artists and students from across Australia and New Zealand, providing opportunities to produce publications and progress their photographic careers. It's so exciting for us to work with the good people at Photobook NZ to make sure that both sides of this award continue the great reputation Momento Pro has created.
Photobooks are such an important and tangible way for photographers to be showing their work. There is an ability for anyone to self publish or work with a designer and / or publisher to be able to create a tangible outcome for their photography and ideas. To have an initiative where anyone is able to showcase work like this is both exciting and so rewarding for us to be able to facilitate first hand.
What is different about the Awards this year?
There are a few new additions to this year's awards. We are so excited to announce a new Pre-press (Dummy book) category. Open to both students and the broader photographic community, this new category will not only allow for more people to share their love of photobook creation, it will provide a wider audience looking to finalise their photobooks, an opportunity to do so with the  incredible printing prizes that Momento Pro are proving.
We have a fabulous new committee this year made up of some new voices in photobook production alongside some true experts within the industry. We are so proud to introduce Libby Jeffery from Momento Pro, James Bugg, Narelle Autio and Justine Ellis to join the Photo Collective team to find and discover what Australian photobook makers have been creating over the last few years.
We are also incredibly excited that the finalists exhibition will be on display at the Photobook Weekend as part of PHOTO 2022 International Festival of Photography on the weekend of 21st / 22 May 2022. We can't wait to work with you guys to create an awesome weekend celebrating everything Photobooks and be a part of this major biennial festival of new photography, art and ideas taking place in Melbourne and regional Victoria.
What are you looking out for in the selection process?
The committee are tasked with discovering the best in photography, picture editing and publication design. As they review the digital and physical books they will be looking for incredible photography, design, layout, typography and cover art. They will be asking how the book's photo editing and sequencing create an engaging visual narrative. Is the book original in concept and design? How the use of imagery, text or supporting material enhances the story in the photographs and/or book, and how successful the appropriateness of the photography, design and format is for the book's intended purpose and audience.
Finally, how would you like to see the Awards grow in the future?
By bringing these awards to a larger audience through the Photo Collective platform and partnering with organisations such as yourselves, we are so excited to be able to reach a wider range of Australian photobook makers and showcase how they are creating meaningful work through photography, whilst being to be able to show what these artists are creating on a global scale.