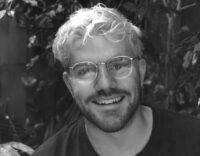 PHOTO People – Photo Australia's Curator Brendan McCleary
15.1.23
Brendan McCleary is the Curator at Photo Australia and is responsible for curating PHOTO 2024's outdoor program. Here he talks about his career to date and how he is looking forward to being inspired by the Open Call.
Brendan, can you start by telling us about your creative background and how you came to work for Photo Australia?
I studied Art History (Honours) at the University of Melbourne and was always drawn to photography and public art. The first exhibition I curated after graduating in 2012 was a Zanele Muholi exhibition, Mo(u)rning for Midsumma Festival in Melbourne. This show was such a great starting point to get me thinking on the role of the curator in caring for artists, artworks, and audiences.
I was then the director of artist-run-initiative SEVENTH Gallery for four years and worked with artists often on their first public exhibitions. I've always been curious to work with interesting found spaces. My interest in public art led me to work with MPavilion (Australia's leading architecture commission) from 2016-2018, which took me across to Monash University for a two-year contract commissioning artworks and events for the OMA MPavilion on campus. There's more, but that's a good summary of how I began curating large photographs in public spaces.
What does your role as curator incorporate?
Working as a curator is an absolute mixed bag. I go for a lot of walks through the city when in planning mode, imagining artworks in locations and seeing the way people already interact with each space. I spend a lot of time working with artists to create new works, to determine the positioning of artworks and how they will be displayed. There is a lot of creativity involved with imagining artworks presented in new and unexpected ways, thinking of the ways each piece will work together, and how we can communicate the artists' ideas to the public. In the end, it's all about working with people – artists, designers, engineers, fabricators, installers, building owners, city gardeners, scaffolding riggers – who all play a role in bringing this epic undertaking to life.
What have been the most exciting and challenging aspects of producing a new festival?
The most challenging was postponing our first festival due to COVID-19. It seems wild now, and an absolute blur, but moving an entire festival and program of outdoor installations from April 2020 to February 2021 was a big jump – and all while working from home, in and out of lockdown. Add to that a five-day snap lockdown right before install, squashing seven days of install into three days.
The most exciting and rewarding is working with artists and watching new commissions and installations take shape. One install that stands out is Christian Thompson's Being Human Human Being for PHOTO 2022. Both challenging and exciting, I was working with photographic works and an open-air sound installation (something I haven't done for a while). Installed in the RMIT Alumni Courtyard, formerly the Old Melbourne Gaol courtyard, the space was transformed with Christian's Flower Wall series, works in which he disappears into constellations of flowers in an exploration of identity, sexuality, gender race, and memory. The soundscape had such power with Christian singing in his mother tongue, Bidjara, which is considered an extinct or lost language. Each word of Bidjara spoken – or sung – works to maintain it as a living language.
How have you seen PHOTO Festival evolve through the two iterations and into what it is now?
PHOTO Festival started as our Artistic Director Elias Redstone's idea, and I joined the team next at the end of 2018. We're a small team, and it's been incredible to see what was initially an idea bring together an already incredible photographic community in Melbourne, making something greater than the sum of its parts – a real moment to think about contemporary photography and its impact on our society. With my main role within this being commissioning and presenting artworks in the public realm, it was such a feat in the very first festival, PHOTO 2021, to be able to transform Argyle Square, in Carlton, with artworks by Zanele Muholi, Broomberg and Chanarin and Maija Tammi, who are all incredible artists.
PHOTO 2022 built on the success of PHOTO 2021. We were able to commission more artists and return to iconic locations like the Parliament of Victoria steps and the State Library forecourt, also with installations outside Melbourne Town Hall (a beautiful install by Hannah Brontë surrounded by planters with native flora), and the steps of Old Treasury Building. During PHOTO 2022 we also presented our largest artwork to date, Cindy Sherman's Untitled Film Still, which was installed as an epic 20-metre-long artwork across the façade of Federation Square. I studied her practice at university and know how influential she has been over generations of artists (she's the selfie queen), so it was such an achievement to bring her work to the streets of Melbourne.
What have been some of your other highlights?
Using the city as a canvas is such a privilege – working with artists to make a walkable exhibition all the way from Parliament, onto Spring St, and down to the Birrarung (Yarra River). For PHOTO 2022 we were able to work with some interesting sites, including the Department of Treasury and Finance, where a powerful self-portrait by Atong Atem (part of her Photo Australia commission Surat) was installed on the façade of the building. The building office liked it so much they asked to keep it as long as they could. It was amazing to be able to show Surat on the streets of Toronto at the same time as part of Scotiabank CONTACT Festival in Toronto, a partnership we set up across our two festivals.
What have been some of the outcomes for artists who have participated via the Open Call?
It's been incredible to see the development of artists and photographers' practices, and to work with people and see this take place. Some of the works by Hong Kong-born artist, Scotty So, made for Shungay (a PHOTO 2022 commission that came about through the Open Call), were acquired by the Bendigo Art Gallery. Also hearing from other artists from the Open Call in 2022 that have been invited to exhibit following their PHOTO 2022 display.
There have also been instances when an artist applies with one project, but when we meet and start talking a new idea emerges, and we work together to create a new body of work. This was the case for several artists. Madeline Bishop is a great example. For PHOTO 2022, Madeline created a new commission: So I sew stitches. In this series, Madeline asked friends and family members to refer her to somebody that she had never met. She then photographed these people in their homes during this first meeting. It was a beautiful project, and so timely as we came out of lockdown, exploring the ways new relationships are formed. And Sydney-based Richmond Kobla Dido has continued developing new skills and networks, recently shooting Lil Nas X at his Australian concert.
For international artists the Open Call has also been an opportunity to show their work for the first time in Australia. In PHOTO 2021, Gustavo Germano presented a series of billboards for his Auscencias (Absences) project, and in PHOTO 2022, Jenny Lewis presented her full One Hundred Years project at its largest to date, over 100m in length.
What makes a successful Open Call application in your opinion? What are you looking for?
First and foremost, to be inspired. There's so much incredible talent in the world and I'm excited to see what comes through the Open Call. I've been introduced to some incredibly talented artists and photographers through our last two Open Calls.
I'm looking to see artworks and ideas, and to show these clearly. At the end of the day, we're a photography biennial, so the quality of artwork and visuals (being able to see an artist's vision come through) is where we start.
I'm seeking projects that look towards the future: artistic responses, documentary photography – single images that have a strong presence, to full series. We are focused on contemporary work, which could include projects looking at ideas from the climate crisis to how what's happening in our world today is pointing towards possible futures. From social activism to centring Indigenous voices, to looking at how we can be better future ancestors. I'm also interested in developments in technology, from AI and Machine learning to space travel, VR, and the exciting new ways photography is being produced.
Successful applications will be projects that are clear and that show an artist or photographers voice coming through. And projects that will work within the public realm and respond to the ideas we're looking to explore in the festival.
Finally, is there anything you can share about your curatorial vision for the outdoor program at PHOTO 2024?
For the PHOTO 2024 outdoor program I'll be looking at returning to key sites and building on the PHOTO 2022 program. I'm interested to try new display techniques and to densify our festival precincts with artworks. Thematically, I've described above that the program will centre on ideas that look towards the future. Where are we headed? Where do we want to be? And how can our lives in the present impact our long-term future? Essentially, the program will be shaped by artists and photographers, and the ideas they're addressing.