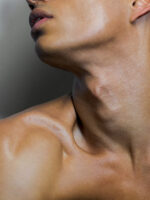 Q&A with Florian Hetz
31.3.22
Florian Hetz is a German artist living and working in Berlin. Originally a theatre producer, he began documenting his daily life during the recovery after a severe encephalitis. His work closes in on seemingly normal every day moments and bodies to elevate and translate them into his very own hyper focused, visceral language.
Hello, please start by telling us something about yourself that is not in your bio.
I've been working in a popular techno club for 11 years and never particularly liked techno.
Can you explain your artistic processes to us (research, methods, processes, rituals, etc)? Has this changed over time?
When I started to take photos professionally, I went into the studio extremely prepared. I had made sketches of the image beforehand and knew exactly the light I wanted. It was great for learning technical aspects of the work. but it also restricted me artistically.
In LA, I started to leave the studio and didn't allow myself to "know" the outcome of a shoot beforehand. Instead, I wanted to react to what I was seeing in front of me.
Letting go of a concept wasn't easy, but it allowed me to open up to my surroundings.
As an artist/creative, where do you draw inspiration for your work from?
A lot of my work is about memory. After I lost big chunks of memory due to an encephalitis, I started to question many of my memories, but also tried to fill in the blanks with my work. Bits and pieces popped up in my head and I didn't know how much of that was my memory or just something I have read/seen…but it's also not very important anymore.
What has been the most rewarding project you have worked on so far?
The ongoing project about scars.
It's a special moment when I show someone the way I see them and that their so-called flaws are not flaws at all.
What led you to photography (rather than any other artforms)?
I never wanted to take photos, but after I lost parts of my memory due to a severe encephalitis, I used photography as an aid to help me navigate through my life. Without the photos, I would have forgotten even more of that time. Photography helped me to remember my days.
What does the PHOTO 2022 theme 'Being Human' mean to you?
Trying to be kind, to be open to towards things that are not familiar, and to stand up for others. Kindness should be the base of being human.
When you are not working what do you enjoy doing most?
I'm the happiest when I'm away, so travelling has always been a very important part of my life.
What do you treasure the most? Why?
At the moment it is the return of light after a long, dark winter.
But on a more general level, I treasure the sense of freedom I have from being born into a rich country. Something that happened by chance and not by my own doing. The war that Putin's Russia forced onto Ukraine shows us how quickly this privilege can be taken away.
What advice would you give to your 15 year-old self?
Just keep doing what you are doing: don't care for the opinion of others, and stay focused on who you are. Soon you'll leave this damn place that holds you back. The world is out there and you'll be part of it. And stop smoking!