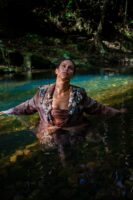 Q&A with Hannah Brontë
13.4.22
Hannah Brontë is an Artist/Creatrix living and working on Yugambeh country. Brontë's body of works explores the feminine experience, young women's and mother's journeys and spiritual connections. Much of her work correlates the treatment of the earth to the treatment of our bodies. Brontë's work has begun unpacking intergenerational spiritual knowledge, which she feels is just the beginning of a new direction within her work.
Hello, please start by telling us something about yourself that is not in your bio.
I was in the circus when I was a kid called Flipside and I loved the trapeze ! I was obsessed with Cirque du Soleil and truly thought I would become the Queen of the Spanish web ! I still love circus and will have another round on the trapeze I know it !
Can you explain your artistic processes to us (research, methods, processes, rituals, etc)? Has this changed over time?
I dream and swim.
If I'm stuck on an idea I will also go out and dance with my friends to move my body and switch off. Sometimes you just need a good sweaty shake to find your flow.  Music is a very important part of my practice. I love to listen to musicians that relate to the themes in new bodies of work I'm exploring. I have playlists that I blast in my studio while I draw, write and weave ideas together.
My practice has relaxed a lot as I've gotten older or perhaps I've found my tempo. I started uni at 17 so I was quite little compared to others in my course. I really took on board a lot of suggestions of what an artist "should do" as the way to make. That actually isn't my way. I have dreamt every single artwork I've ever made far before I started drawing it.  Spiritual connection to my imagery is really vital for me to keep diving into an idea. There has to be organic timing for me to want to pursue ideas. I would say one main thing that has changed is the importance of writing. I used to move straight into imagery and collecting colours and textures that felt right for what I wanted. Now I often include words in this collection process. I will surround myself with the colour, language, quotes that  I feel that relate to each work and I can get quite obsessed with everything relating to these ideas. I love full immersion! When I was making Eye Hear U magik I wore sapphire blue for 2 months as I just needed that around me !
Ritual wise life is a ritual . I try to make offerings to myself to always feel nourished and take care of my whole self and those I love first. I have Sacred Bliss tattooed on my thighs to remind me that's how I want and need to step into every day.
As an artist/creative, where do you draw inspiration for your work from?


My environment, from authors, from my family both chosen and blood. From weather patterns, from the stars, from sea currents, from singers, from colours that change my entire mood, from conversations that spark fireworks of ideas, from optehr creative humans putting their hearts onto walls and asking us to look.
What does the PHOTO 2022 theme 'Being Human' mean to you?
Being human -Means evolving. Every day re-learning/ unlearning/ freeing yourself to find your true core. There is pain, there is joy, there are births, there are deaths but without every ounce of it we wouldn't be living. There are universal truths that weave us together and I believe the most powerful art taps into these.
When you are not working what do you enjoy doing most?
Surfing, dancing, djing and laughing til my abs hurt with my loved ones. I also love to eat seafood in the sunshine and truly believe we all deserve a delicious life!
What do you treasure the most? Why?
Getting older. It is a privilege to age and keep living. Many dear humans to me have transitioned to the other side and they all lived Big! I am grateful to be here.
What advice would you give to your 15 year-old self?
Celebrate every step! The small steps matter baby girl ! You're fuckin invincible and powerful trust your gut!