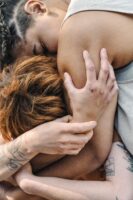 Q&A with Henry Wolff
13.4.22
Henry Wolff is a Tarntanya/Adelaide-based artist whose practice is concerned with images that articulate vulnerability in their participation with the world/s of their collaborators. Through attention to human connection, they explore entangled experiences of being, and foster the moral virtues of compassion, care and love.
Hello, please start by telling us something about yourself that is not in your bio.
My journey into image making has been an organic, if not curious one. My background is in fashion; where I have been the designer for two global brands, led my own inter/national textile print design studio, designed countless lookbooks and graphic works. It was this environment that initiated my love for image making. Some of the first photoshoots I experienced were in Sydney, with then Australian fashion photographer of the year, Georges Antoni, alongside an A-team of Australian fashion photographers, stylists, and creatives. These photographers shared with me their philosophies and practices. I look back now and struggle to comprehend the enormity of these experiences, especially for my twenty-year-old self. However, these experiences set me on a journey in pursuit of images that capture the interior landscapes people. I've organically grown into the practitioner I am today, through self-driven development, study, and incredible opportunities to be mentored by several leading Australian image makers (including, Hoda Afshar, Eugenia Lim, Amos Gebhardt, and David Rosetzky).
Can you explain your artistic processes to us (research, methods, processes, rituals, etc)? Has this changed over time?
At the heart of my practice is a pursuit of images (whether moving or still) that really capture what it means to be vulnerable in participation with the world/s of my collaborators. This comes in recognition that there are many images that fail to transform observation into empathetic and embedded acts, and instead contribute to ruptures in representation of people/s across our visual culture. My work is subversive, but in a tender way. Through an empathetic observational methodology, I create works that explore the power of marginality and diffraction – offering visibility to queer, non-binary, and non-conformist narratives (while equally guarding their exposure and consumption).
This approach to practice is largely informed by my own value system and has been refined through the support of mentoring. However, as an early career practitioner, I recognise that there is still plenty of space and time for these processes to evolve, and I look forward to discovering how the language of my practice continues to grow.
As an artist, where do you draw inspiration for your work from?
The stories of the people around me, alongside my own experiences, have always been a strong source of inspiration. Short conversations have triggered yearlong projects. In knowing that people's narratives are fertile ground for my creative process, I readily employ interviewing and group workshopping as research tools.
I am also a madly in love with cinema, particularly love stories, dramas, and experimental films. Some of my favourites include 'In the mood for love' by Wan Kar-wai, 'Call me by your name' by Luca Guadagnino, 'The tree of life' by Terrence Malick, 'I Origins' by Mike Cahill, and 'The mirror' by Andrei Tarkovsky.
As an avid reader, I have a love for poetry and philosophy. I also have a curious habit of reading multiple books over long periods of time, dipping in and out of each as it feels right (which may also be a ploy to avoid the finality in finishing some).
What has been the most rewarding project you have worked on so far?
I have found that all my projects have been rewarding in different ways. Being centred around collaboration and participation, each project offers me the chance to hold space with another person/s, and to work towards translating the vulnerability of their narrative/s into visual form. This is as subjective as the people I work with and can generate unexpected and transformative experiences.
Why is photography an important artform/practice to engage with (both personally and for others)?
I feel that with our access to technology that today it's very difficult not to engage with photography. Which is wonderful! But for me it's potentially less of a question as to how important is it that we engage. Instead, I wonder how important it is going to be that we engage with images critically or with a discerning eye. Technology will continue to radically shift photography, and I feel that it will be of great importance in the realm of representation and visibility that we maintain and foster a critical temperament towards image culture.
More personally, image making is an important tool for me to translate and process experiences. Photography and moving image have become a language that helps me in reckoning my existence. They allow me to communicate what feelings escape my capacity to articulate in words or speech.
What does the PHOTO 2022 theme 'Being Human' mean to you?
For me it's an open invitation to diffracted expressions of being, to articulations of the myriad of experiences and challenges that go with being human. It's about celebrating and navigating the human condition, while equally critiquing where we fall short in our obligations and responsibilities to one another. In its openness it allows space for interpretation, for the subjective, and for encounters with diverse modes of existing.
What advice would you give to your 15 year-old self?
You're likely going to struggle with many parts of your identity in years to come, and that's ok. These experiences will be the foundation for better things to come. The learning doesn't slow down, you'll just keep making new mistakes, but (hopefully) learning from them. The important thing is that you live your own truth, love unconditionally, take care of your vulnerability, and trust in your instincts.