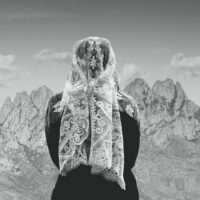 Q&A with Ioanna Sakellaraki
9.4.22
Melbourne-based Greek artist, Ioanna Sakellaraki's work investigates the relationship between collective cultural memory and fiction. Drawing emphasis on the photographic object, process and encounter, she explores the boundaries of a primitive, yet futuristic vision of places and people.
Hello, please start by telling us something about yourself that is not in your bio.
I grew up in mountainous suburb of Athens surrounded by an old quarry. I lived in seven different countries before returning to Greece, after the death of my father, and making a performance on the hillside of the cemetery of that same mountain, named Mount Poiliko, by which he was buried in 2017.
Can you explain your artistic processes to us (research, methods, processes, rituals, etc)? Has this changed over time?
In my work, I see rituals as spaces where bodies and emotions come together to perform death. Through both manual and digital processes, I attempt to establish similarly intricate rituals through my images.
My process of documenting the communities of mourners has been substantial for the initial stages of this body of work. It has been important for me to carry out the work in the field, finding the real women and documenting their reality in the remote villages of the Mani peninsula. However, I felt that making a work about grief required a journey through memory and memory loss. As I continued to work on the project, my images made me question how mourning could become a cultural experience of loss today.
While constructing the final pieces, shot with my Zenza Bronica SQ-A, I gradually experimented by post-editing my film negatives and playing with inverted light and shade, relief and contour, exploring the inherent recognizability of the figure's outline. Some of my mixed-media images transport the mourners to remote landscapes, showing only the black back sides of their garments as they gaze at mountain ranges and roiling tides. In other cases, their silhouettes appear to have decomposed, as though over time, into the very texture of their surroundings: a chain-link fence, an aging vase, a cave wall etched with chalk drawings.
To me, the dialogue between the documentary and creative process that follows by adding another layer to what has been documented as real, allows the narrative to be rerouted between existing and imaginary spaces, creating a space where death can exist.
As an artist/creative, where do you draw inspiration for your work from?
Philosophy and literature have been great sources of inspiration for me. As part of my current practice- led PhD at RMIT School of Art, I have been exploring the relationship between mourning and the creative process through fragmentary writing, with emphasis on the photographic object, process and encounter, drawing a parallel conversation across literature and poetry, photographic works and film pieces, in the attempt to trace the faces of memory when it seeks to remember the trauma of death.
What has been the most rewarding project you have worked on so far?
The Truth is in the Soil, a five-year exploration of personal and collective mourning in my homeland Greece. While working on this project, my own photographic practice transformed into a question of becoming through loss and became the passageway for reconnecting with my homeland as a land of curiosity where death is an encounter through family, religion, mythology and the self.
Why is photography an important artform/practice to engage with (both personally and for others)?
I believe that photography can help you walk through the dark times. It is an art form that is immediate but also characterised by a discontinuity in time and place. ''Between the moment the image is recorded and the moment that the image is viewed or looked at is what John Berger calls an abyss.'' This discontinuity and isolation of appearances in the photographic, the way the image affirms things in their disappearance and gives us the power to create absence through fiction, is what became a trigger for exploring the medium and its possibilities further, within my own narratives.
What led you to photography (rather than any other artforms)?
The way the photographic medium began developing a dialogue with my writing after my BA studies in Journalism. I began making images while I was completing my MA in European Urban and Cultural Studies, back in 2011. In that context, I carried out a series of research projects on urban planning, architecture and cultural development, paired with my background in journalism, and I gradually began to work on visual narratives around memory and territory, with a focus on architectural ruins and historical landscapes.
What does the PHOTO 2022 theme 'Being Human' mean to you?
Being a human is like reciting a cosmic rhythm for reaching the harmony within.
Heraclitus said in one of his Fragments: ''There is a harmony in the bending back, as in the case of the bow and the lyre.''
In Greek theatre, methexis is group sharing; it is the moment the audience participates, creates and improvises the action of the ritual.
When you are not working what do you enjoy doing most?
Going through archives and discovering new plots as sources of inspiration.
What do you treasure the most? Why?
The absolute freedom but also constant doubt and limitation that being an artist equips me with.
What do you hope your legacy will be?
Something that questions but empowers.
What advice would you give to your 15-year-old self?
'Don't listen to your Greek mum!' Go out there and try whatever it takes to find what you are good and happy with!