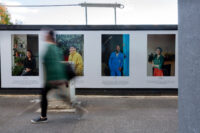 Q&A with Jenny Lewis
23.11.22
Jenny Lewis', One Hundred Years, documents a community in East London through which the viewer finds connections with their own community—wherever in the world it may be.
My personal projects come from a need to investigate where I am. As a new mother I worked on One Day Young, photographing women the day they had a baby, back in their own homes. In retrospect, I was finding my way in this new role and creating images to make motherhood visible. Reflecting my experience and others'. Celebrating these moments so I did not feel invisible. Next, I concentrated on creatives in their spaces, in my series Hackney Studios, to establish my voice and practice.
When photographing other people, I'm often reflecting on or investigating my own thoughts and feelings. With One Hundred Years I wanted to see what was coming next, now that I am almost halfway through this timeline, to revisit ages I'd already left behind. The structure of the series gave me the opportunity to be surrounded by a multitude of perspectives, from every stage of life, by listening to these voices and capturing these people I felt nourished and reassured.
Can you explain your artistic processes? Have they changed over time?
I made a grid on my studio wall of a range of ages. When I photographed someone, I swapped the age for a face and worked through, making sure I was covering diversity not just in terms of gender but also emotion, experience and economic background.
I was going to present the series as a book, showing the portraits in consecutive age. The rhythm of the series was clear as I was making the work so I could see where I needed to change pace to show the ebb and flow of life, which is never linear. Tragedy can come when least expected and peace can be found after hardship. I interviewed everyone as well, to make the work more collaborative, and was surprised with by the honesty and generosity of their storytelling. Their words often a surprise from what the portrait could reveal.
Where do you draw inspiration from?
I have always been inspired by people around me, to understand the world and how to function within it. You can learn so much just by listening, photographing and talking to strangers with an open and honest dialogue, driven by curiosity. Curiosity in people is what motivates my work, and human connection. There's an endorphin rush you feel when you connect with a stranger, which also happens when you are photographing them. An honesty that sparks a high. I'm addicted to that rush. It's something I'm always chasing.
What has been the most rewarding project you have worked on so far?
One Hundred Years, as it has given me the opportunity to surround myself by such rich experiences for the last four years and totally indulge in what I like doing best. This is the first time I've turned my work from book projects into large scale public artworks. Getting the work into this public domain, to new audiences, is really thrilling. Working in site specific ways, the urban landscape becoming integral to the work, with the sound of the city or nature interacting with the soundscape of the canal. I'm really excited to be working in this new way and seeing the public react to the work…spending time with it in their spaces rather than in traditional art settings. Realising One Hundred Years – all 100 portraits as a gigantic street installation around 130 meters long, each portrait 2 meters high – is incredible. It's something I could have never imagined, on the streets of Melbourne. I couldn't be happier to share my community with you.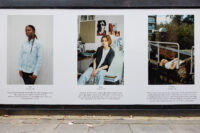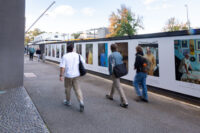 Why is photography an important medium to engage with?
I think it's important to see art that we can relate to. Celebrating normal people and documenting them with respect is a way of saying you are important; your experience is important, and will you share it with the wider world? I want to make art, representations of people that you maybe wouldn't expect to see in a gallery or public installation, to celebrate the ordinary experience which can of course be extraordinary. Photography is the perfect medium for this as we are all so used to it. It's an unintimidating artform, a language that an audience can immediately read.
I also went to art school and did a painting degree. I quickly understood I was a better photographer than painter so I created the images I wanted with a camera, which I could never achieve with a pencil or paint.
What led you to photography over other artforms?
When I was 17, I worked in a Romanian orphanage. I had been lent a camera and it was there I took my first rolls of black and white film. On my return I didn't have the words to explain my experience but somehow the beauty and conflicting sadness of what I had witnessed was captured in those negatives. I had a visceral reaction to how powerful a picture could be. How an image without colour, words or explanations could transport you to a place and offer you a glimpse into the thoughts and feelings of the person in the picture, and possibly a reflection of the photographer's reaction to a person or place. Although I went to art school it was this experience that was the seed and finding my way back to photography after college felt like a natural step.