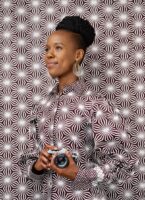 Q&A with Thandiwe Muriu
18.3.22
Thandiwe Muriu is a photographer born and raised in Nairobi, Kenya. As a female artist operating in a previously male-dominated field, she is passionate about celebrating and empowering women and showcases Africa's unique mix of vibrant cultures, textiles and beauty norms. Her work celebrates her African heritage and tackles important issues such as identity and self-perception using the rich colours and vibrancy the continent is so well known for.
Can you start by telling us something about yourself that is not in your bio?
When we were born, my parents chose names centred on the theme of love for my sisters and me. Each of us has a love name. Thandiwe means 'beloved'.
Can you explain your artistic processes to us, such as how your research, your methods, processes or any rituals? Has this changed over time?
I follow a very systematic process for creating my work.
It all begins with the fabric. Each piece has its own story and personality that I want to shine. Everything I put into an image is centred around enhancing the story I feel the print is telling. I'm always on the lookout for modern prints that my generation would use to make outfits. When I create images, I'm always looking for colour combinations that are bold and exciting.
Before photographing each new image, I also research traditional hairstyles across Africa using books and the internet, then design modern interpretations of them for the hairstylist. Historically we have some very elaborate hairstyles.
I then design an outfit that makes the print come alive and work with a local tailor to stitch the clothes I have designed. As the clothes are being stitched, I design and fabricate the eyewear with materials I have selected, often from my childhood growing up in Nairobi. I always enjoy this part of the creative process the most because it requires me to see ordinary objects as the foundation for exciting fashion accessories.
When all the different elements are finally ready, I bring them together in one photograph on a subject to create the images you see.
Recently, as I have become more curious about my culture and continent, I have begun paring African proverbs with each of my images to pay tribute to the rich oral culture. The proverbs either describe the feeling the image gives me or an element within the image. Words can be just as beautiful as images.
What led you to photography (rather than any other artforms)?
The short version is my father introduced me to photography and I loved it from the moment I touched a camera at 14.
The long version is that I think photography was the perfect mix of science (since we play with light), computers (all the editing we do) and art. As the daughter of an artist and almost a scientist (my father never quite completed his studies in zoology as he felt called to do something else), the scientific and artistic blend in photography appealed to me. As a child, I always felt frustrated that I could never really draw, sing or paint well- those art forms just never really felt like a good fit for me. When I found photography, I found my voice and it opened up a whole new world for me.
What does the PHOTO 2022 theme 'Being Human' mean to you?
To me being human means the ability to be shaped and developed by my life experiences. I am the sum total of all my collective joys, pain and experiences. These are what allow me to experience life in all its fullness. It is as simple and as complicated as that.
In Camo 34, the subject's eyewear is flowers. These represent, on a personal level, part of my own experience being human- the joy of gardening and experiencing nature unfold around me.
When you are not working what do you enjoy doing most?
Gardening is a joy I discovered during the covid lockdowns in Kenya. Perhaps I enjoy gardening because it applies the same principles that photography does- texture, colour and lighting. My work requires me to spend a lot of time in front of the computer and there is a release that comes from being out in nature. I'm always trying to squeeze one more plant into my garden- there's no such thing as too many plants!
Also, I love travelling.
What do you hope your legacy will be?
I am passionate about creating contextually relevant teaching material for aspiring photographers on the continent. Over time I hope to build a wealth of teaching materials that can be used to empower the next generation of African photographers.
My hope is to be a waymaker for other Kenyan photographers who want to tell their own stories. I would like to inspire Kenyans to consider art as a possible career path.
What advice would you give to your 15-year-old self?
Cultivate your creative eye. There is no right or wrong way to do this and enjoy the process. Try photographing any idea that comes into your head, no matter how wild.
To quote an African proverb, "Where you sit when you are old shows where you stood when you were a youth." The little steps you take today are the foundation you will build your life on.
The premiere of Camo 34 by Thandiwe Muriu is being exhibited in Scott Alley, Melbourne from 29 April – 22 May. Camo 34 has been curated and commissioned by Photo Australia in partnership with Metro Tunnel Creative Program.