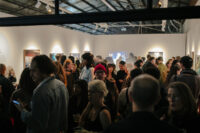 PHOTO Spaces – Hillvale Gallery
22.3.23
From friendly film developer to photographic talent powerhouse – we spoke with Hillvale Gallery Co-Director Sarah Pannell about the space's evolution, photo trophies, and what's next.
Hi Sarah, congratulations on opening the new Hillvale Gallery last year at PHOTO 2022. Can you please start by introducing Hillvale and why you decided to open the gallery?
Thanks Elias! Hillvale has been running as a photo lab since 2013, and as the lab has evolved, so has the team's vision for what Hillvale can offer our community here in Naarm/Melbourne. In 2017, we opened our first gallery space on Albert Street in Brunswick which was somewhat of a test run for what Hillvale Gallery has now become. Jason Hamilton and Andy Johnson, co-founders of Hillvale, wanted to bring everything under the one roof, which meant finding a large enough warehouse space in an accessible location in Brunswick. The new Edward Street site has provided an opportunity to house all of Hillvale's lab operations and the gallery within the one space, as well as office and studio space at the rear of the building.
Today, the Hillvale Gallery is a flexible space that opens directly onto the street, adjacent to our front of house, which means the gallery gets a great deal of foot-traffic throughout the week.
We are committed at Hillvale Gallery in providing an accessible platform for emerging photographers and artists working with photo media. We work closely with our artists to bring their personal vision to life in the space.
Since opening last April, we've hosted 7 exhibitions, with 4 of those being the artist's first solo exhibitions.
What is your role at Hillvale Gallery?
I work with Jason and Andy in helping to manage the gallery and work closely with the artists in a curatorial capacity and exhibition development.
Your first exhibition at the new site was James J Robinson's beautiful PHOTO 2022 exhibition 'On Golden Days'. What was the response to the exhibition? And how was your experience participating in the biennial?
We were blown away by the positive response to James' incredible exhibition last year. It was an honour for us to showcase his work; we've admired James as an artist for many years, having developed his rolls since the early days of Hillvale. We were excited to invite him to present his first solo show and it was the perfect way to launch the space to the photo community. In addition, for this exhibition to be presented as part of PHOTO 2022, it was a wonderful way to broaden the exposure of James' work and our gallery, with a high volume of visitors.
What do you have in store for your 2023 program?
We kicked off 2023 with Anu Kumar's exhibition Nagar which was many years in the making. We have 10 shows slated for the years program, with the next solo show coming up in May when we will present Liss Fenwick's Humpty Doom. Other artists exhibiting this year include Pool Collective winners Nicholas Hubicki and James Bugg; Sarah Walker, Madeline Bishop and a number of exciting group shows later in the year involving artists who entered our 2022 EOI.
We are excited to see you are running the Hillvale Photo Trophy to raise funds for the program. What is the Trophy all about?
Our next exhibition is our first ever fundraiser photo prize exhibition which is an open-entry photo competition – an inaugural event for Hillvale Gallery. The aim of the Hillvale Photo Trophy is to provide the gallery with funding to pay artist fees over the next 12 months. Ilford is sponsoring the event and we are excited to exhibit a wide range of emerging and established photographers and photo-media artists as well as photo enthusiasts in the gallery – its going to be a very fun event with cash prizes and a peoples choice award.
And, without giving too much away, what are you planning for PHOTO 2024?
We are working with a local artist who exhibited at PHOTO 2022 as part of the New Photographers showcase – we are super excited about this collaboration and can't wait to show a body of work which is so thought-provoking, expansive and timely.
Sarah was also commissioned by Photo Australia and Metro Tunnel Creative Program to create a new body of work for PHOTO 2022. View Sarah's work The People are the Times commissioned by Photo Australia for PHOTO 2022 here.