1 March 2024 - 5 May 2024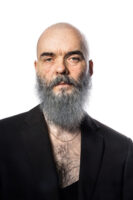 Image: Scotty So, Daniel, 2023
Through photography and AI, young Victorians are propelled into 2073.
When
1 March 2024 - 5 May 2024
Venue
Benalla Botanical Gardens, Bridge St, Benalla
Wed – Mon, 10am – 4.30pm
Accessibility
Wheelchair access
Price
Free
+50 explores the perspectives and aspirations of young people from diverse backgrounds in Benalla and Melbourne. Artist Scotty So invites participants to share their thoughts on how they and the world will change in the next 50 years.
This exhibition offers a platform for young voices to be heard, encouraging reflection on the changing world and our place in it, as well as on ageing and the impact of time on our lives. With the help of AI processing, each of the young participants is presented in large-scale portraits imagining them in their old age.
Through So's use of AI technologies, we consider how we utilise these currently, and to what degree can we depend on their accuracy in the future?
Supported by MARS Gallery and Colour Factory