500 Strong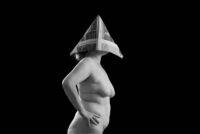 When
19 March 2022 - 3 July 2022
Venue
55 Little Malop St, Geelong
Mon – Sun, 10am – 5pm
Theme
Accessibility
Wheelchair access
Price
Free
The world is awash with images of naked youthfulness, mainly young women. A naked older woman is an extremely rare subject and hardly ever portrayed with any sense of desirability. In 2018 photographer Ponch Hawkes embarked on a project to photograph 500 Victorian women over the age of 50 from all backgrounds. 432 women volunteered to be photographed in the nude to celebrate the diversity and reality of older women's bodies.
500 Strong presents older women acting as though they have every right to be seen, ripping their clothes off, stepping out of public invisibility. Participants were encouraged to consider their anonymity and, while some women chose to show their faces, many came prepared with a personalised face covering.
This epic work, photographed in Melbourne, Geelong and Shepparton is both irreverent and playful.
Curator
Jane Scott (AU)

Jane Scott is a highly passionate and renowned arts industry leader with over thirty years' experience. Currently she is the Director of the Horsham Regional Art Gallery, following on from the highly successful CEO and Lead Curator position for Flesh after Fifty: changing images of older women in Art held at the Abbotsford Convent in 2021. Jane has also been the Curator of the Access Gallery at the National Gallery of Victoria, Director of the Monash Gallery of Art, Cultural Attaché at the Australian Embassy in Washington DC, CEO of Regional Arts Australia and CEO of Craft Victoria.