A Constant State of Transformation
1 March 2024 - 24 March 2024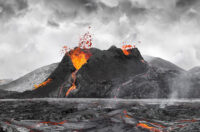 Image: Michael Najjar, eruption (detail), 2022. Courtesy the artist.
Artists explore our relationship between humans, nature and the potential for transformation.
When
1 March 2024 - 24 March 2024
Venue
Level 2, 417 Collins Street, Melbourne
Wed – Sun, 10am – 4pm
Accessibility
Wheelchair access
Price
Free
German artist and photographer Michael Najjar explores the far-reaching ecological, economic and cultural impacts of climate change which are leading to a redefinition of the relationship between humans and nature. His latest series cool earth spans the arc from an impending dystopian future – which has already arrived in our present – to a technology-based decarbonised post-fossil world.
Working across film, digital collaging and video, Leela Schauble's Portals series incorporates NASA imagery captured on the dates of recent ecological disasters into photographic collages that act as portals between worlds, inspired by ancient China's profound appreciation of water, philosophy and connection to heaven and earth.
Living between Shanghai and Munich, Xiao Hui Wang has been writing diaries and documenting her life through photography for over 35 years. The exhibition features 100 works from her ongoing self-portraiture series Visual Diary that documents the healing process she underwent due to a car accident that transformed her life.
Curated by Anouska Phizacklea Supported by the Australia China Art Foundation
Curators
Anouska Phizacklea

Anouska Phizacklea (BA (hons), MA, MCom, CPA, GAICD) is Director of the Museum of Australian Photography (MAPh). Phizacklea has expertise across the visual, decorative, film and literary arts as well as finance and organisational development, with Masters Degrees in both Fine Arts and Commerce.

In 2023 she joined the board of the Melbourne Queer Film Festival (Treasurer). She has held senior management positions at leading Victorian public institutions, Heide Museum of Modern Art and the Australian Centre for Contemporary Art (ACCA), and worked for many years in art research and valuations in galleries and auction houses in Melbourne and London. Since her appointment at MAPh Phizacklea has curated group and single artist exhibitions with leading Australian practitioners