wani toaishara (CD)
a most beautiful experiment
1 March 2024 - 4 May 2024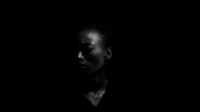 Image: wani toaishara.
Using the Black gaze to challenge Black representation. 
When
1 March 2024 - 4 May 2024
Venue
Level 1 Perry Street Building, Collingwood Yards,
30 Perry St, Collingwood
Wed – Sat, 11am – 6pm
Accessibility
Wheelchair access
Price
Free
In his new work, wani toaishara responds to artist Jean Depara's documentation of Kinshasa's nightlife through film installation, blending past and present in a form of temporal collapse. It is an attempt at materialising Black life, love, and resilience as art forms in and of themselves, democratising access to the tools of freedom-making, and claiming necessary space in which to unpack liberation as both an independent and a collective act.
toaishara is a Congolese artist whose works span various mediums including photography, performance, installation and film. His practice explores Black life and representation, dislocation and Indigeneity as well as the effects of colonialism on Africa and its diaspora, often using his personal history to create intimate and personal works. The use of urban spaces in his films is significant in the way he transforms banal spaces into dramatic stages for exploration and reflection.