Liu Di (CN)
A Stubbornly Persistent Illusion
1 March 2024 - 24 March 2024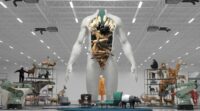 Image: Liu Di, 2019.
Brave new worlds.
When
1 March 2024 - 24 March 2024
Venue
Rodda Ln, Melbourne
24 hrs
Accessibility
Wheelchair access
Price
Free
In A Stubbornly Persistent Illusion, Liu Di envisions future worlds and investigates the potential of digital manipulation, departing from documentary photography without completely breaking into fiction. Incorporating methods from photography, painting, and computer graphics, and references to cinema, architecture, and space exploration, the artist seeks an unfamiliar aesthetic in order to ponder the question: in what time and space are we living?
"I have no position on what a perfect world could be, or judge the worlds I create," he says. "Whether they are good or bad worlds, whether you want to live in it or not."
Curated by PHOTO Australia Supported by RMIT University