Francesca Pili (IT)
#ABRUXAUS
1 March 2024 - 24 March 2024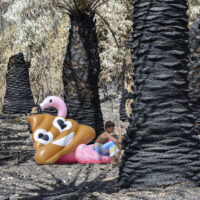 Image: Francesca Pili, ABRUXAUS, 2019.
Tourism and catastrophe collide in Sardinia.
When
1 March 2024 - 24 March 2024
Accessibility
Wheelchair access
Price
Free
Wildfires have ravaged the Italian island of Sardinia for several summers. The fires are just one of the problems affecting the island of Sardinia. Frenzied mass-tourism brings thousands of people to the island, but some fear it does not allow for the economy to develop organically.
The Italian photographer Francesca Pili's tongue-in-cheek dystopia places tourists into the burnt landscape, as sunbathers and revellers continue their holidays while the island burns. The project's title refers to a local phrase directed at the arsonists often responsible for these fires.
Curated by PHOTO Australia Supported by RMIT University