Acts I–VII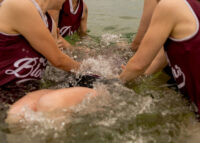 When
29 April 2022 - 17 July 2022
Venue
Botanical Gardens, Bridge Street, Benalla
Daily, 10am - 4.30pm
Closed Tuesdays
Theme
Accessibility
Wheelchair access
Price
Free
Oculi presents Acts I–VII, a visual meditation on seven modes of being. Conceived by members of the Oculi Collective in conversation with curator Natasha Christia, the exhibition reformulates the 'Seven Year Life Stages', a theory of human development by philosopher Rudolph Steiner, into seven universal states of being (and their binaries) that lie at the heart of contemporary existence.
Through new, unseen and revisited works, Acts I–VII explores what it means to be human, and to be image-makers, as we regather after the pandemic. Are we individuals or are we part of a collective? Do the old rules and assumptions apply?
Acts I–VII is designed as an expansive installation that spills from the main gallery to outdoor installations in Benalla. Interconnection, participatory elements, and an intermedia approach to the photographic medium run as threads through the seven acts, inviting a novel engagement with ourselves, images, and the world.
Curators
Oculi (AU)

Established 2000
Lives and works Australia-wide

Oculi is an Australian collective of 19 award-winning photographers, working across many diverse styles and perspectives. Now in its twenty-first year, Oculi is a leading influence in Australian fine art and documentary photography, its members united by a central conviction to visually respond to the changing world, through contemporary ethical practices. Oculi photographers have been recognised through national and international awards including World Press Photo, the Moran Contemporary Photography Prize, Australia's National Photographic Portrait Prize, and the William and Winifred Bowness Prize for Photography. Oculi's work is internationally published, widely exhibited, and represented throughout Europe and Japan by Agence VU.

Natasha Christia (ES)

Natasha Christia is an unaffiliated curator, writer and educator based in Barcelona. She is also a collection consultant and a dealer specialised in fine art photography and photobooks. She holds a BA in Archaeology and History of Art from the National Kapodistrian University of Athens, an MA in Modern Art and Film from the University of Essex, and a Postgraduate Diploma on Publishing from the University of Barcelona.

Her research focuses on the exploration and reinvention of dominant narratives through a novel reading of archival collections, the intersection of photography, film and the photobook, and the dialogue between 20th century avant-garde photography and contemporary forms of expression often labelled as post-photography. Her penchant for "excavating" the past owes much to her diverse multidisciplinary academic background in Art History, Film Studies and Publishing.

From 2005 until 2014 she was the art director of Kowasa gallery in Barcelona, where she curated more than seventy exhibitions and designed projects that dealt with fine art photography and the independent photobook market. As a member of the research group Arqueologia del Punt de Vista 2009-2012, she designed theoretical and audiovisual projects that involve the study and recovery of testimony, documents and technologies of the past.

Since 2008, she has been teaching in photography schools in Spain and abroad. She regularly contributes essays on photography criticism for international publications such as 1000 Words, and commissions for artists and exhibitions. She was the guest editor of OjodePez magazine 41: Self Calling and guest-editor at the Read or die Publishing Fair in Barcelona (November 2015), exploring the topic "The Book: on Endless Possibilities".