Afterlife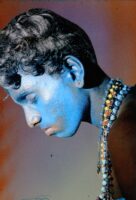 When
29 April 2022 - 30 June 2022
Venue
25 Collins St, Melbourne
Daily, 8am – 6pm
No public access: 15—17 June
Theme
Accessibility
Wheelchair access
Price
Free
Afterlife is the sixth chapter of Vasantha Yogananthan's long-term project, A Myth of Two Souls, inspired by, and offering a modern retelling of the epic tale the Ramayana. Drawing inspiration from the imagery associated with this myth and its pervasiveness in everyday Indian life, Yogananthan has retraced the legendary route from north to south India.
For this chapter—presented exclusively in Australia for PHOTO 2022—Yogananthan travelled to Rajasthan and Tamil Nadu to photograph people attending Dussehra, a Hindu festival celebrating the victory of good over evil.
Afterlife explores death and reincarnation through the epic battle between Prince Rama(an incarnation of Vishnu) and the 10-headed demon king Ravana, with the characters depicted by festival goers Yogananthan encountered in costumes and painted faces.
People attending Dussehra seek to reach a trance-like state and Yogananthan has created collages that mix several pictures together to put the viewer in a similar state of disorientation.
Curated by Photo Australia
Presented in partnership with Sofitel Melbourne on Collins
Supported by Fini Frames
PLEASE NOTE: There will be no public access to Sofitel from 15—17 June.