An Unscripted Recording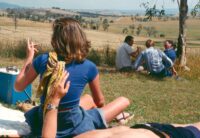 When
29 April 2022 - 22 May 2022
Venue
Spring St, East Melbourne
24 hrs
Theme
Accessibility
Wheelchair access
Price
Free
Throughout the lockdowns in Melbourne last year Varney rediscovered her Dad's earlier archive. William Varney, a very keen and practiced eye. Boxes of coloured slide film from the mid 70's to early 80's. A bounty of memories and moments with his beloved Pentax Spotmatic c.1973. During this time of solitude she became witness to life through his eyes.
Beyond the family archive she was drawn in by the closeness and intimacy of their togetherness. People connecting with tender gestures and conversation seemingly unfazed by the camera. A pure candidness of life before the saturation of personal documentation & curation. This is sublime unguardedness of being together.
Varney is proud to be presenting to the Parliament Victoria commission a selection of his photographs gathering in Mafra, Wilsons Promontory, Valencia Creek, Lake Mountain and the Yarra Valley.
Commissioned by Photo Australia
Supported by Parliament of Victoria and the Restart Investment to Sustain and Expand (RISE) Fund, an Australian Government initiative