Talk: Q&A with Atong Atem
7 May 2022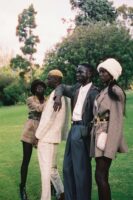 Nayndng Mayen, Niva, 2021. Courtesy the artist.
When
7 May 2022
Saturday, 6pm
(AEST)
Venue
7 James St, Windsor

Tue – Sat, 10am – 5pm
Accessibility
Wheelchair access
Price
Free, bookings required
Join artist and exhibition curator, Atong Atem, for a Q&A session with the exhibiting artists responding to the question of who we are and where we're going.
Be Here Now brings together a group of contemporary artists working with photography, film and new media to examine the past and its effect on the futures we build and create. Through references to history, culture, and group identities, each artist comments on the world as they see it, allowing us to imagine alternative futures.
What does it mean to talk about history from an intimate and personal perspective? From confronting depictions of African American women referenced in Yétúndé's self portraits to Tig Terera's intimate travel portraits, the artists in this show speak to their inescapable link to history. The artists explore religious identity through virtual reality, familial nostalgia in film photos and the varied ways we exist here and now as products of what came before.
Artist
Atong Atem (SS/AU)

Born 1994, Addis Ababa, Ethiopia
Lives and works Melbourne, Australia

Atong Atem is an Ethiopian born, South Sudanese artist and writer living in Narrm/ Melbourne. Atem's photographic practice explores migrant narratives, postcolonial practices in the African diaspora, and concepts of identity, home, and liminal space.  Her dynamic portraiture references widely, from Malick Sidibe and Seydou Keita to science fiction writer Octavia Butler.  She was awarded the inaugural National Gallery of Victoria and MECCA M-Power scholarship in 2018 and the Brisbane Powerhouse Melt Portrait Prize in 2017.

Mohamed Chamas (LB/AU)

Lives and works Melbourne, Australia

Mohamed Chamas is a Lebanese-Australian, digital artist based in Melbourne. His practice approaches a heterogenous union between spiritism and the contemporary-technological. Chamas explores this through his ethno-cultural identity, interfacing the latter with Islamic cosmological concepts . His work usually takes the form of 'artgames' or interactive media which include digital painting, 3d modelling and elements of technical art. Recently a graduate of Honours in Media and Communications at RMIT University, his areas of interest are embodiment, mysticisms of the past, semiology and assemblage as identity. Drawing in what is often held apart helps Chamas to approach an encultured discursivity that interrogates the divine, the racialized and the 'other'.

Ali Choudhry (AU)

Lives and works Melbourne, Australia

Ali Choudhry is a photographer in Melbourne, Australia. Ali's practice aims to explore our relationship with ourselves, eachother, and the world around us. Through use of minimalist compositions and selective use of color and form he aims to invoke what he calls a "breath" to all of his images.

Ali's work has been shortlisted for the William and Winifred Bowness Photography Prize, Incinerator Award, Robyn Beeche Foundation Award, and others.

Arben Dzika (AU)

Lives and works Melbourne, Australia

Arben Dzika is an artist, whose practice involves working with various media – including, but not limited to, sound, image, word, and performance. His work primarily seeks to reflect on, interrogate, and play, with technologies, systems, and human senses. Within his practice, he works as a producer and DJ under the moniker, Dilae.

Nayndng Mayen (AU)

Yétúndé Olagbaju (US)

Born U.S.
Lives and works Oakland, U.S.

Yétúndé Olagbaju is an artist and maker, currently residing in Oakland, CA. They utilize video, sculpture, action, gesture, and performance as through-lines for inquiries regarding Black labor, legacy and processes of
healing. They are rooted in the need to understand history, the people that made it, the myths surrounding them and how their own body is implicated in history's timeline.

They have shown work and projects with Oakland Museum of California, Portland Institute of Contemporary Art, Pt. 2 Gallery, Southern Exposure, SOMArts Cultural Center, Untitled Art Fair, Art Basel, and more.
They hold an MFA from Mills College and are the recipient of the inaugural Nancy Cook Fellowship, the Murphy Cadogan Awards, and the Jay Defeo Award.

Tig Terera (AU)

Lives and works Melbourne, Australia

Tig Terera is a Melbourne-based photographer, screenwriter and filmmaker. His films have been exhibited internationally at various film festivals. Tig is interested in film and photography as mediums for storytelling and connection.