Tony Albert (AU)
Ashtralia
29 February 2024 - 23 March 2024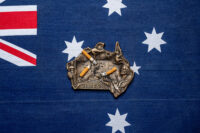 Image: Tony Albert, Ashtralia #5, 2023.
Reinterpreting Australian kitsch.
When
29 February 2024 - 23 March 2024
Venue
107 – 109 Rupert St, Collingwood
Tue – Sat, 10am – 5pm
Accessibility
Wheelchair access
Price
Free
The latest iteration of Tony Albert's Ash Tray series, Ashtralia is a deeply poignant work drawing on both personal and collective histories.
For these images, Albert has assembled 82 found vintage ceramic and metal ashtrays which are decorated with kitsch images of Aboriginal people and culture. The act of stubbing out cigarettes on the faces of Aboriginal men, women and children symbolises Australia's colonial history and speaks to ongoing race relations in contemporary Australian society. His reactivation of Aboriginalia offers audiences a new critical engagement with these objects, which could be found in many Australian homes in the twentieth century.
Albert's work simultaneously presents confronting issues and embodies the spirit of positivity in the face of adversity. How do we remember, give justice to, and rewrite complex and traumatic histories? And how can we learn from the past to shape a better future?