Trent Parke (AU)
Ballarat Avenue of Honour
23 November 2020 - 14 March 2021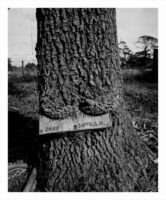 Trent Parke, Acting Bombardier Joseph Roy Kinsman 34405, 24th Field Artillery Brigade, The Avenue of Honour, Ballarat, Victoria, Australia, 2014, from WWI Avenue of Honour series. Purchased with funds from the Hilton White Bequest. Collection of the Art Gallery of Ballarat. © the artist and Hugo Michell Gallery.
When
23 November 2020 - 14 March 2021
Venue
40 Lydiard St N, Ballarat, VIC 3350
Daily, 10am – 5pm
Accessibility
Wheelchair access, Accessible Toilets, Accessible Parking
In honouring WW1 soldiers from the Ballarat region, photographer Trent Parke explores the tension that exists between an image captured at a moment in time, and the organic, evolving nature of a living memorial.
Ballarat's Avenue of Honour is one of the earliest-known memorial avenues to have been planted in Victoria during WW1. In 2014, Parke created a series of images of trees in the Avenue for the international exhibition The First World War, presented in Bruges, Belgium. Drawn to the Avenue's living memorial— where each tree stands for a particular life—Parke developed a work that illuminates the parallels between natural forms and the fates of the individuals they represent.