Banksia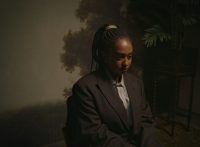 When
15 April 2022 - 26 June 2022
Venue
Botanical Gardens, Bridge Street, Benalla
Daily, 10am - 4.30pm
Closed Tuesdays
Theme
Accessibility
Wheelchair access
Price
Free
Exploring the history of African migration to So-Called Australia, Banksia presents an intimate and visually rich telling of the Migration Story.
A photographic series and video—accompanied by an arresting score by Melbourne composer Jerry Agbinya—work in conjunction to reveal otherwise obscured layers of history on a cinematic scale.
The works highlight the experience of African men and women who arrived on the First Fleet in 1788, a colonial history that started long before Atem's own family arrived from South Sudan in 1997.
In fostering a deeper understanding of the experiences of African migrants, Atem interrogates the shaping of national policy throughout the centuries—policy that has directly influenced national identity.
The presentation of Banksia at Benalla Art Gallery encompasses a gallery exhibition of photographic stills alongside nightly outdoor screenings of the video work throughout PHOTO 2022.
Supported by MARS Gallery