Adam Ferguson (AU)
Big Sky
1 March 2024 - 24 March 2024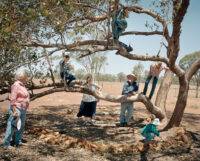 Image: Adam Ferguson, from the series Big Sky, 2023.
The changing identity of the Australian outback.
When
1 March 2024 - 24 March 2024
Venue
Federation Square, Melbourne
Accessibility
Wheelchair access
Price
Free
What is coming to pass on this enormous continent as the Earth changes? What does the future hold for communities facing the impact of the climate crisis?
Big Sky is a photographic survey of this nation's heartland. The Australian bush is an ancient land of Aboriginal countries renamed and reshaped by colonisation. In recent years the transition to large-scale mining, the mechanisation of farming, and a population shift to larger regional centres has reshaped the cultural and environmental landscape. It has also suffered from the gamut of extreme weather linked to climate change—bushfires, flooding and drought.
In this ambitious project, Adam Ferguson takes in the fading yet iconic events of rural life, shrinking small-towns, Aboriginal connection to Country, pastoralism, the impacts of globalisation and the adversity of climate change. In doing so, he asks whether the Australian identity of yore still rings true, particularly when seen in the context of the complex realities of contemporary life in the Outback.
Curated by PHOTO Australia Supported by Metro Tunnel Creative Program