Lilah Benetti (AU)
Black and Blur
27 January 2024 - 24 March 2024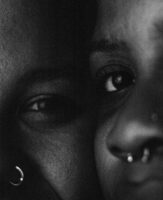 Image: Lilah Benetti, from the series Black and Blur, 2024. Courtesy the artist.
Foregrounding Black Queer identity.
When
27 January 2024 - 24 March 2024
Venue
45 Moreland St, Footscray
24 hrs
Accessibility
Wheelchair access
Price
Free
Through this series featuring portraits of migrant and Indigenous Black individuals, artist Lilah Benetti recognises that Blackness is far from a monolithic identity; it's a mosaic of cultural, ethnic, and global Indigenous backgrounds, shaped and coloured by the unique contexts from which we emerge.
Ethnographic research suggests that prior to Europeans claiming dominance in so-called Australia, there was little evidence of rigid binary constructs in Indigenous histories pre-colonisation. While many Western societies claim the reputation of being pioneers and forward-thinkers when it comes to gender identity, Indigenous cultures across the world have a long rich history of gender nonconformity and queerness that was erased by the ongoing brutality of colonisation.
"I believe when our Blackness and Queerness intersect, the possibilities are endless, bound only by the ways in which we choose to represent ourselves—and our ideas of what it means to be self-determinant," says Benetti.
A Queer PHOTO exhibition curated by Brendan McCleary Commissioned by Midsumma and PHOTO Australia Supported by Creative Victoria through the Victorian Government's Go West Fund